White Papers
The Choice for Confidence Against Corrosion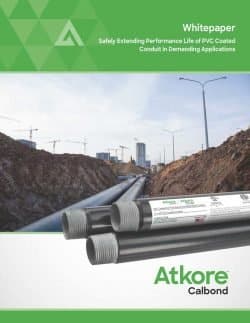 Lessen the effects of costly shutdowns by choosing the right PVC coated conduit system. Calbond PVC coated galvanized rigid steel conduit is ETL-verified for long term performance and UL 6 listed for safety in combatting corrosion in harsh environments. Atkore's unique bonding agent ensures a secure PVC coating bond and has passed the industry's most rigorous testing for corrosion resistance. Contractors, consultants, and civil engineers can put their confidence in Calbond's conduit product service life for highly corrosive applications. Eliminate corrosion concerns and prevent devastating failure costs by choosing Calbond's ETL-verified and UL 6 listed conduit for transportation, infrastructure, wastewater, and utility applications.
Learn more and download here.
Playbooks
eBook: Special Report – Gearing Up for Worker Safety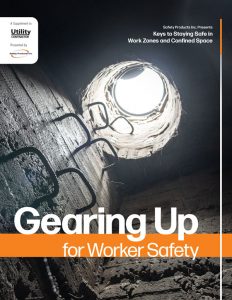 In the utility construction industry, safety is the top priority. Safety starts with the proper mindset, but it also requires a knowledge of safe working practices the tools needed to ensure that employees are able to avoid injuries on the jobsite.
We assembled this playbook to be a guide to some of the most hazardous safety topics facing the utility industry.  Utility work, public works and construction all come with plenty of dangers.  To properly combat these dangers supervisors, managers and employees must first know the dangers and properly prepare for the unexpected.
Learn more and download here.