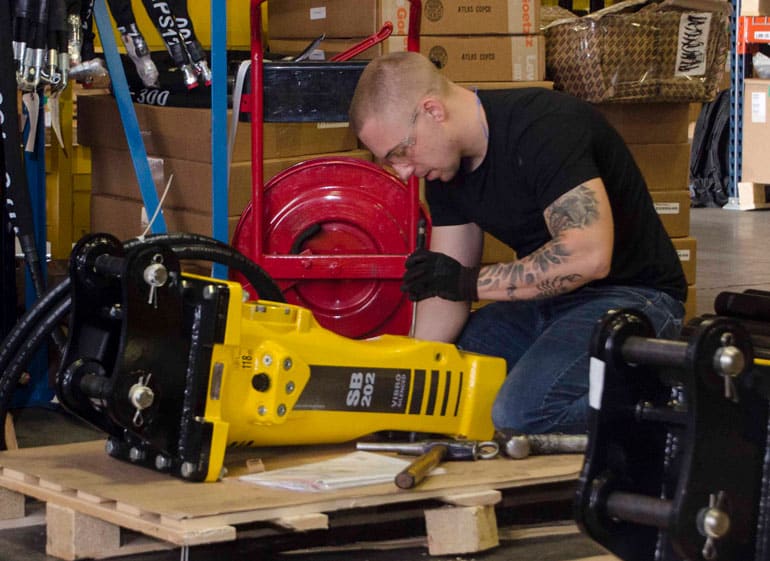 The new world-class Atlas Copco Hydraulic Attachment Competency Center in Independence, Ohio, combines a customer center, repair shop and configuration center with its own dedicated parts and supplies warehouse.
Matt Cadnum, Vice President – Hydraulic Attachment Tools U.S. and Canada, said the move made no disruption to sales or service. "That's an amazing accomplishment," Cadnum said, "since invoicing for August marked an all-time record high. It demonstrates already how the Competency Center positions us to serve our customers better than ever before. August highlighted a 48 percent increase in our annual hydraulic attachment sales, and we're not done. We're still growing. Operating as Epiroc gives us even greater room to grow."
Parts and supplies were relocated from the Atlas Copco Distribution Center in Charlotte, N.C., as a part of Atlas Copco Mining and Construction USA's upcoming name change to Epiroc. Epiroc will be a newly formed company that will be the source for mining, infrastructure and natural resources equipment. Atlas Copco will remain a separate company, focused on industrial customers.
"The change to Epiroc is all good news for our customers," said Rich Elliott, Product Manager for Hydraulic Attachments for the U.S. and Canada, explaining that the Competency Center can now focus all of its energy solely on its 89 models of hydraulic attachments including breakers, Combi Cutters, Concrete Busters, pulverizers, multi grapples, compactors, bucket crushers, Hydro Magnets, Steel Cutters and Drum Cutters.
Placing all operations related to hydraulic attachments, including administration of its web presence featuring Sales Online and Parts Online, significantly increases operating efficiency.
"In just the past two months we've been able to grow the entire team," Elliott said. "It's allowed us to increase competency levels for specific application support and technical service. It's an advantage for everyone in the chain, from the end-user of our products to our distributors, our stores – even at the product company level. We truly offer our customers the best mining and quarrying, demolition and recycling, construction, and the metallurgy solutions on the market."
Rocky Stacy, Aftermarket Manager – Hydraulic Attachments, also based at the Independence Center, said, "We've always had the superior product on the market. We have now matched it with superior market support. Our product specialists and technical support cover all of the U.S. and Canada. You can say we've made it tough to go somewhere else for your hydraulic attachment needs."
The Ohio location was previously home to Atlas Copco's unique 9,000-square-foot Hydraulic Attachment Configuration Center. Stacy took part in its creation as its first manager. "Rather than sell a customer a new attachment with a box of parts to install back at their operation or through a third party – though we can do that, if they prefer – we customize it here at point of sale. Take for instance, mounting brackets – we have almost every popular make and style of brackets for leading brands of machines they want to mount to. When an attachment leaves here, it's ready to go. It's assembled and tested. They just mount it and start working."
Stacy said another advantage of the Competency Center is its 18 employees. "Everyone that works in this facility works specifically with hydraulic attachments, all the way down to parts and supplies. In the office we've all individually worked 15 to 25 years, all focused on hydraulic attachments. The collective experience of our team is well over 250 years."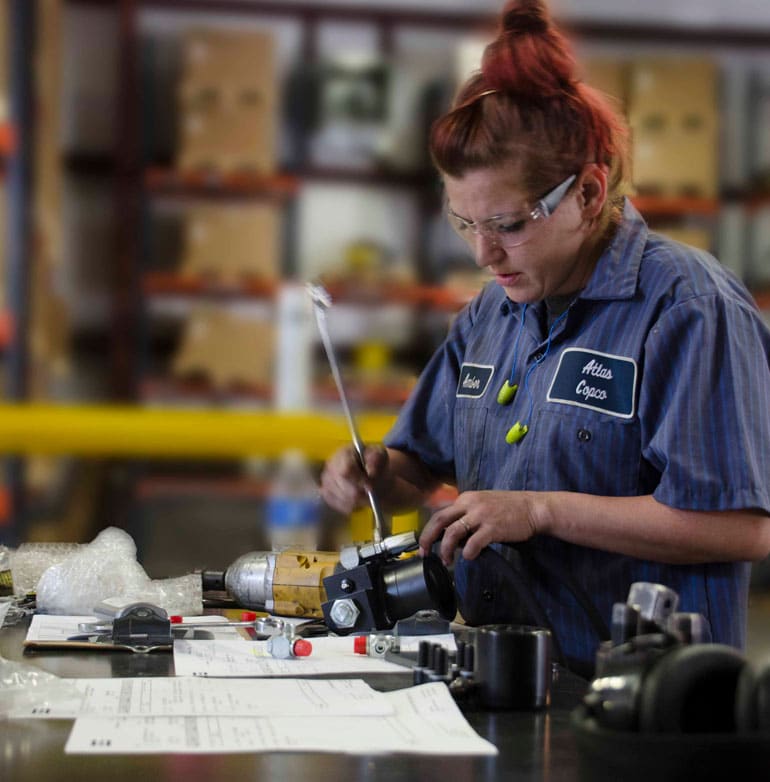 A dedicated team focused solely on hydraulic attachments increases operational efficiency, Stacy said. "A simple example is parts selection. If someone needs a seal kit, our people know what they are looking for, and often times are familiar with the models it's used on, and the customers who need it. They aren't just matching a part number to a bin number. They know the part, and that eliminates potential for errors that cause needless delays in production."
The Competency Center is the epitome of efficiency, Elliott said, giving parts availability as an example. "Having our own on-site parts warehouse means we have 100 percent parts and supply availability. What the assembly technicians need is either on the shelf behind them or is a short walk. The supply warehouse isn't more than 50 yards away."
Find out more about Atlas Copco here.
Tags:
Atlas Copco