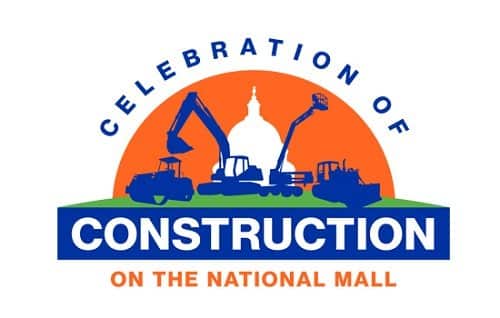 NUCA Joins Construction Industry Representatives to Showcase Cutting-edge Innovations
Equipment manufacturers, technology companies and construction industry organizations will be taking over the National Mall from Sunday, May 14 to Tuesday, May 16, 2023, in Washington, D.C.
Twenty-four participating AEM members will be showcasing cutting-edge innovations, including alternatively powered equipment, autonomous systems with live demonstrations and an array of other tools that are enabling our industry to sustainably build the infrastructure that make modern society possible. Seventeen partnering organizations are set to add their voice to this incredible story.
Exhibits focusing on workforce development, worker safety, sustainable materials and best practices will complete the tapestry that is modern construction. AEM, member companies and partner organizations are diligently working to engage members of Congress, regulators and their staffs to welcome them to the three-day event for an opportunity to learn more about the construction sector, our efforts in innovation and sustainability and the sector's positive impact on the American economy.
The festival will be open 9 a.m. to 5 p.m. daily, with an additional focus on inviting local families, students and tourists to experience the unique opportunity to see construction equipment up close.
Experts from Astec Industries, Bobcat Company, BOMAG, Bridgestone, Caterpillar, Cemen Tech, DEVELON, Ditch Witch, Dynapac North America, FAE USA, Inc, Gradall Industries, John Deere, Komatsu Corporation, Kubota Tractor Corporation, LBX Company, LeeBoy, Manitou, necoTECH, Takeuchi, Topcon, Trimble, Vermeer, Volvo CE and Wirtgen will showcase the latest in equipment technology.
The Association of Equipment Manufacturers, the American Council of Engineering Companies, Associated Equipment Distributors, the Association of Equipment Management Professionals, Associated General Contractors of America, the American Rental Association, the American Road and Transportation Builders Association, the American Society of Civil Engineers, the American Traffic Safety Services Association, the Association for Uncrewed Vehicle Systems International, the Common Ground Alliance, the Distribution Contractors Association, Independent Electrical Contractors, the International Union of Operating Engineers, the National Asphalt and Pavement Association, the National Stone, Sand, and Gravel Association, the National Utility Contractors Association and the Power and Communication Contractors Association will all be on the National Mall to share their industries' efforts to improve construction safety, efficiency and environmental stewardship.
"Our industry gained a tremendous amount of positive exposure at last year's Celebration of Modern Ag on the National Mall event," said Curt Blades AEM Senior Vice President of Industry Sectors & Product Leadership. "This year we are poised to achieve even more visibility among regulators and lawmakers as excitement builds around the return of big iron to the heart of Washington. We have applied lessons learned to make our 2023 event bigger and better."
For more information, contact AEM Senior Director of Regulatory Affairs Nick Tindall at ntindall@aem.org. Tags: Construction on the National Mall