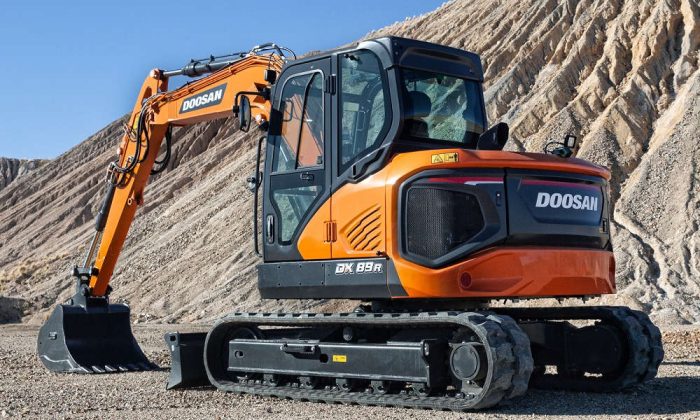 DEVELON (formerly Doosan Infracore construction equipment) evolves its compact equipment offering with a stronger machine: the DX89R-7 mini excavator. This next-generation, -7 Series mini excavator is now available in the United States and Canada.
The new DX89R-7 mini excavator replaces the DX85R-3 and packs many of its predecessor's features with enhancements such as greater lifting capacity and more horsepower. This nimble machine is equipped with a family of products, including a DEVELON engine and diagnostics tool. The mini excavator boasts a reduced-tail-swing feature, permitting more power in cramped, congested worksites.
"The new 9-metric-ton DX89R-7 excavator is a bridge between our smaller mini excavators and our crawler excavators," says Thomas Lee, director of product management at DEVELON. "It gives our customers the flexibility of a mini excavator with more power and dig depth they may need without moving up to a larger machine."
Performance
Like smaller -7 Series mini excavators, the DX89R-7 comes with an innovative platform to improve structural durability and machine robustness. Powered by a Tier 4-compliant D24 diesel engine offering more horsepower, the DX89R-7 provides increased productivity from its predecessor. Auxiliary hydraulic flow remains readily available for operators to use hydraulic-powered attachments with the mini excavator.
An increased machine operating weight and the excavator's new counterweight design provide better stability for increased lifting capacity. This is particularly useful when using the excavator to lift and place objects such as pipes, boulders or hardscape materials. Traction force is also higher in the new DX89R-7 due to the machine's higher weight, meaning customers can push material more efficiently with a dozer blade.
The boom swing feature provides more flexibility for DX89R-7 operators. A thumb switch on the left joystick controls the excavator's boom swing. This can be helpful when operating the excavator in a confined space, when the operator needs to dig next to an existing structure or obstacle.
Customers can configure their new DX89R-7 with an optional long arm. The long arm provides nearly two feet of additional dig depth and reach. This can help reduce machine repositioning and improve cycle time when performing repetitive movements.
Versatility
The new DX89R-7 is a versatile machine that can be paired with attachments, including buckets, quick coupler, and thumb. The quick coupler significantly reduces the time it takes to switch attachments, which can increase the operator productivity and ensure the correct bucket is paired with the digging requirements. Quick coupler piping comes standard for the new DX89R-7 mini excavator.
Excavator owners can further increase the machine's versatility by operating with approved attachments, such as augers, hydraulic breakers, plate compactors, rippers, and grapples. Customers can also add an optional second set of hydraulics to operate multi-functional attachments. For example, the secondary auxiliary hydraulics are ideal for using tilt-rotator accessories for mini excavators.
A backfill (dozer) blade levels, backfills, grades and pushes material with ease. To make grading, leveling and backfilling as easy as possible, the blade float feature allows the blade to follow the contours of the ground without operator input.
Operator Comfort
DEVELON's newest mini excavator will introduce all-new features for operator comfort. The machine offers best-in-class air conditioning and improved vents throughout the cab. DX89R-7 operators will appreciate features such as heated seats and fold-up pedals for additional floor space. An open canopy with Roll Over Protective Structure (ROPS) is also an available option.
Similar to larger excavators, the new DX89R-7 comes standard with the Smart Touch screen. The 8-inch touch screen enables operators to quickly read machine performance indicators and change machine settings. A rear-view camera can be viewed from the touch screen for enhanced jobsite visibility and safety. An optional 360-degree all-around view monitoring (AVM) system is also available. For additional visibility, particularly in low-light situations, LED lights can be installed on both the front and rear of the DX89R-7. Bluetooth audio allows operators to communicate easier without removing their hands from the joystick controls, as well as enjoying their favorite music or podcasts while operating.
Serviceability
The new DX89R-7 excavator has a swing-open tailgate and side-access hood, providing easy access to the excavator's engine and pump package, valve bank, cooling system and hydraulic system. Everyday maintenance items like filters, fluids, air cleaner and battery are also easier to reach. A centralized grease bank makes it simple for the operators to properly add grease to the machine. Additional maintenance features include the following:
● Battery disconnect switch
● Color-coded and labeled wiring and hydraulic hoses
DX89R-7 Mini Excavator Specs
● Horsepower: 65 hp at 2100 rpm (48.5 kW)
● Operating weight: 21,005 lb. (9,528 kg)
● Maximum digging depth: 13 ft. 6 in. (4 m)
● Maximum digging reach (ground): 22 ft. 6 in. (6.6 m)
● Maximum loading height: 15 ft. 5 in. (4.7 m)
● Travel speed: 1.8 – 3 mph (2.9 – 4.8 km/hr)
-Specs reflect the standard excavator arm