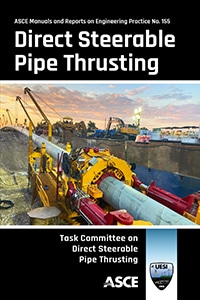 ASCE's Manual of Practice, Direct Steerable Pipe Thrusting, MOP 155, details how engineers and construction professionals can utilize the Direct Steerable Pipe Thrusting (DSPT) method to design and install pipelines. Known as Direct Pipe, this recent innovation in the trenchless pipeline installation industry, combines characteristics of horizontal directional drilling (HDD) and conventional microtunneling to design and install pipelines in ground conditions that would be challenging for other trenchless methods.
The purpose of this manual is to provide stakeholders with general information, and design and construction guidance for the DSPT installation. Divided into eight chapters, the book begins with the history of DSPT, delves into methods, planning, site investigation, and design, with contract documents and construction considerations covered at the end.
MOP 155 serves as a contribution to the DSPT engineering practice to benefit engineers, owners, contractors, equipment manufacturers, and other project and industry stakeholders.
To purchase online visit the ASCE Bookstore.