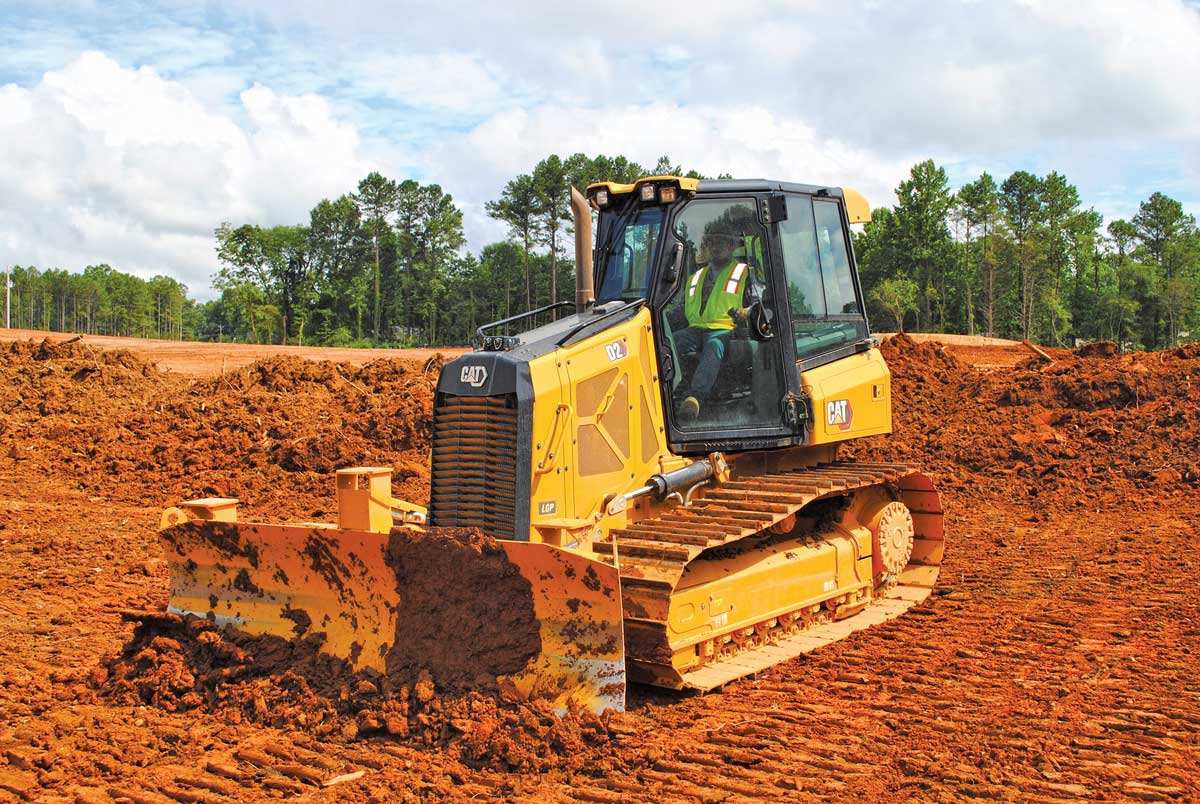 The last several years have seen changes abound in the construction equipment space that are making machines more reliable and productive. To learn more about some of the latest equipment trends, Utility Contractor sat down with Derek Furr, product application specialist for Caterpillar.
Tell us about your role with Caterpillar and your background in the construction equipment space.
I have been with the company for nearly 20 years, and currently serve as the product application specialist for small dozers and tractors, which includes the D1 through D3 dozer models. I started off my career as a design engineer then served in the field as a technical representative. I also worked in the parts group and the Cat Financial group before transitioning to my current role. As a result, I have broad experience working in the different markets we serve.
Can you give us a rundown of new features we are seeing or will be seeing in the Cat dozer lineup?
One of the newer features is CAT Command and our operator-assist features, and we will be introducing some new operator-assist features that follow on from our medium-sized tractors like the
D5 and D6 size, specifically Steer Assist. Steer Assist has been available in that range since January, and beginning in the third quarter of this year they will be available for smaller equipment. Steer Assist helps ease operator fatigue during the day and cuts down on input time with the controls both on the blade and machine control.
Other operator-assist technologies geared to increasing machine performance, productivity and efficiency include Stable Blade Lift and Tilt, Blade Load Monitor, Slow Slip Traction Control and AutoCarry.
What other tech trends are you seeing?
Smaller equipment is typically used for final grading, so grade control options like Cat Grade 3D are popular, but can be fairly expensive to get into. So, there is demand for lower cost features that will do a lot for the customer but not break the bank to add. These include operator-assist features like our Slope Assist, blade load monitor and auto carry. Steer Assist helps expert operators and novice alike, and studies show this can be almost a 70% reduction in machine control movement. In today's workforce environment, it is hard to find, train and retain operators, and operator-assist features can help new operators get up to speed quickly. For example, one of the most inefficient things you can do when moving material is spinning the tracks, and these features can automatically allow operators to carry a full load of materials and not spin the tracks with no operator input, which increases efficiency and cuts down on the overall job time.
As far as technology, what are the most commonly requested features?
Cat Grade 3D is certainly the most popular because it provides site plans and gives you the feel and cut numbers that you need to be able to work to. But there's a lot of infrastructure you have to have to be able to use that. As I mentioned, we rolled out Steer Assist for medium-sized tractors earlier this year, and I that will be very popular for smaller tractors when that is available.
So how do these new features help operators on utility construction sites?
With Steer Assist there are a couple of different methods – Steer Assist and Steer Assist 3D, which requires a satellite signal. The basic Steer Assist does not require a GNSS or GPS. This allows operators to steer exactly straight, specifically when working on V trenches or doing slope work. These types of applications can cause the machine to yaw, or drift down. So that requires input from the operator to keep that machine tracking straight. With Steer Assist, the machine automatically maintains straight travel and continues to carry light or heavy loads on flat or side slopes. It also allows you to steer with the blade. A lot of expert operators will tell you that they use the blade to steer the machine. This has a blade steer feature built in that will eliminate track slip as well. This is going be very popular due to the significant reduction in operator input for both experienced and novice operators.
With Steer Assist 3D along with Cat Grade 3D you can pick a snap line on your job site plan, and then the machine would automatically track to that snap line and steer itself automatically. So, if you had a piece of curbing or you were going around a curve, the machine would automatically snap on to that curve line and drive itself based off the site plan.
You mentioned the workforce issues in today's market. How can technology help reduce the learning curve for new operators?
Caterpillar has many training resources available, including our website and YouTube channel. We also have Catoperatortraining.com, which gives customers free access to instructor-led training, video libraries, and simulators across the different product lines that we have today. We also rely on our dealers for training support, with events held at different locations throughout the year. And we're continually updating our dealer sales force so they can help customers with operator training and available features.
What market segments would benefit from some of the new available technology?
Some of the new technologies are popular in resource and mining industries, construction industries, and energy and transportation, which includes oil and gas and electric power. On the mining side we have large dozers running Cat Command, including our D8 or 9 machines. On the construction side, the smaller dozers are great for fine grading and final grading – mainly pushing lighter loads – so there is potential for contractors to increase efficiency with the new features.
What factors should a customer consider when buying equipment?
The beauty of our product line is that the technology goes across all of our platforms. So if you have a D1, for example, you are not restricted. You can get anything on the D1 that you can get on a D3. Things to consider in deciding what options you need include the level of accuracy required. If you require a very high degree of accuracy, then Cat Grade 3D should be considered.
What advice can you give to ensure that a customer is getting the most out of the machine?
The most important thing is make sure you follow your owner maintenance manual (OMM) to make sure that you're doing maintenance at the required intervals. As technology has evolved with things like electronic engines, some of intervals between service times have changed, so it is important be keep up to date. We also have a Cat Owner's Club, which includes monthly maintenance tips that address things like how to check your track tension, which is especially important considering that 50 percent of the owning and operating costs for dozers is the undercarriage. Improper track tension – either too loose or too tight – can lead to premature wear on other components, leading to more repairs and downtime. Tags: Caterpillar, July/August 2023 Print Issue