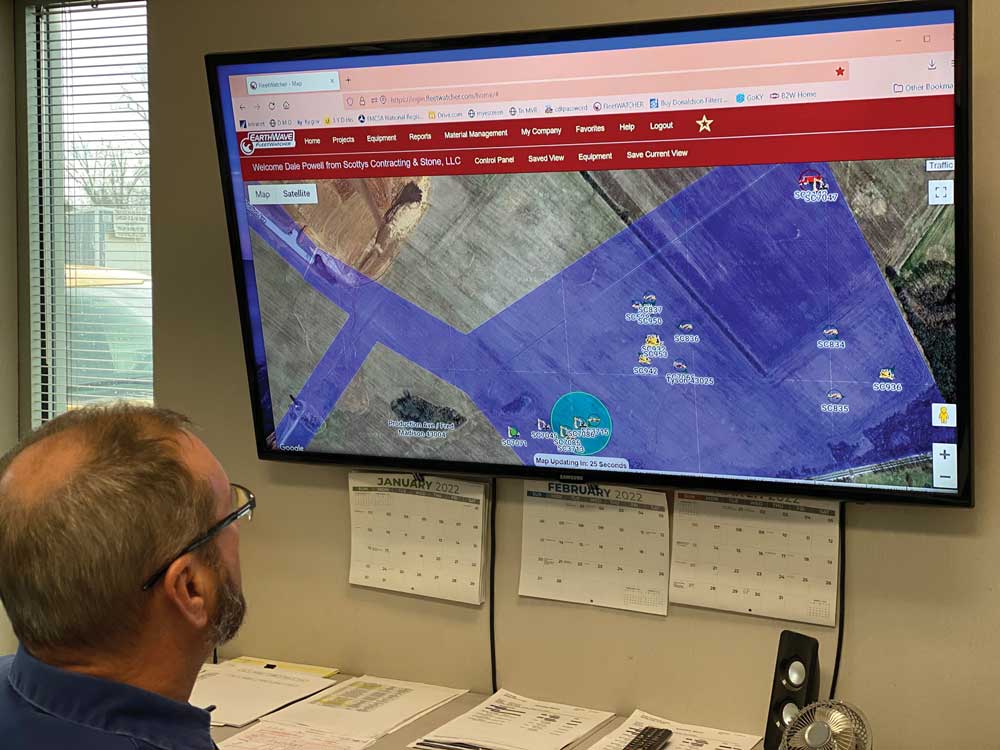 If you've ever felt like you're juggling too many projects at once, you're not alone. Chris Higgins, the Vice President of Engineering and Construction at Scotty's Contracting & Stone can empathize. He wakes up every day with 400 pieces of heavy equipment to allocate across projects throughout Kentucky. On a good day it's a challenge. On a rainy day it's fire drill. But Higgins is prepared, thanks to a telematics tool that collects and displays data across his entire fleet, bridging the gaps between a dozen different equipment manufacturers.
Getting over growing pains
Scotty's Contracting & Stone is a heavy civil and paving contractor that has served a geographic footprint that ranges from Louisville to Nashville for 50 years. In that time the company has grown from 10 employees to over 600, dispatching more than 100 trucks a day through their 14 asphalt plants and 5 stone quarries. Third party trucks are supplied with FleetWatcher as well, so that all haul trucks have the same visibility. Visibility into the entire haul fleet allows Scotty's to see bottlenecks in real time and re-route trucks around them to shorten cycle times.
Throughout Scotty's growth their key has been getting the right equipment in the right place at the right time. "Utilization is a hot topic every day with multiple phone calls and discussions trying to get it right," Higgins explained.
Utilization has always been a priority, but it was easier when Scotty only had 12 grade jobs on any given day. Now, with 70 grade jobs taking place at once, the process is considerably more complicated. But for Higgins it all starts, literally, at the starting line.
"First thing you have to do is try and figure out where your pieces are. For us that starts with looking at FleetWatcher." Earthwave Technologies' FleetWatcher is a fleet management telematics platform that helps Higgins connect the dots between disparate equipment, regardless of manufacturer or class. Unlike OEM telematics that provide machine level data, FleetWatcher provides fleet level data, moving beyond "when is that excavator due for an oil change" to "how can I best use the equipment to keep projects on track and on budget."
"All my Caterpillar pieces are connected to communicate real-time machine health data, which lets mechanics see what's wrong with a piece before it leaves the shop, and another piece of software helps us diagnose machine problems," said Higgins. But none of that was helping with utilization…until now.
A day in the life
Higgins wakes up at 4 AM. The first thing he notices is that it's raining. For most of us, morning rain would have people searching for a rain slicker, but for Higgins the rain means he will spend the day doing his best Peyton Manning impression, calling audibles left and right. To help make these calls, Higgins leverages utilization stats from FleetWatcher over the last seven to 30 days, to see which machines are being used and which ones aren't.
"Everybody wants all the equipment on their job, but they might not necessarily have a current need for them," Higgins explained. While a project foreman or manager may feel like they just used a piece of equipment, the data lets Scotty's see actual utilization. "It's easy to spot underutilized equipment because I can look right away and tell if it's not being used so I can take it somewhere else instead."
Once Higgins identifies equipment pieces that aren't being fully utilized the series of calls begin to reshuffle his equipment to meet the needs of the day. This heavy equipment game of musical chairs not only helps Scotty's increase their efficiency, but also save money in potentially costly equipment rentals. For Higgins this flexibility is essential with a workforce that is used to switching between multiples pieces of equipment during a single shift.
Scotty's also uses FleetWatcher for location services, which helps their operations and security. All of Scotty's lowboys are equipped with FleetWatcher, so foreman and project managers can see real-time GPS data on how far out their equipment is during transportation. This same technology also helped when a mini excavator was prematurely moved from one jobsite to another. Thankfully Higgins was able to use the utilization and location services to source another mini excavator to the original jobsite in need. FleetWatcher has also helped customers like Scotty's and law enforcement to track down stolen equipment with the breadcrumb feature showing where the equipment travelled.
How it works
FleetWatcher helps customers better utilize their construction equipment fleet through real-time tracking and status information. FleetWatcher's construction management solution was developed specifically for heavy equipment contractors to provide timely and accurate information on equipment start and stop time, engine run and idle times, and more. This information empowers companies to make informed and data driven decisions to effectively manage their equipment and employees.
Easy to install hardware connects all equipment from excavators to loaders and dozers to an online platform that's accessible via a desktop or mobile app. Customized data reports with hundreds of filtering options can be set up to be automatically delivered at frequent intervals throughout the day to give owners and operators fleet information at their fingertips.
Equipment utilization is just one aspect of FleetWatcher that helps companies achieve better efficiency on construction projects of all sizes. Scotty's successfully navigated an enormous company growth spurt by upgrading from machine level to fleet level analytics. While the company has made leaps and bounds, Higgins is always looking toward the next step. "I'm not going to say we've got daily equipment optimization figured out yet, but we definitely wouldn't even be close without FleetWatcher." Tags: May June 2022 Print Issue, Telematics