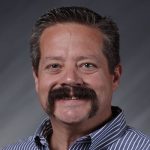 It was a heavy lift, but we did it.
I am honored to report that days after our fall Washington Summit ended, the U.S. House passed the top NUCA legislative goal for this year, a historic $1.2 trillion core infrastructure bill that promises to deliver billions in additional funding to our industry over the next five years. On Nov. 15, H.R. 3684 was signed into law by the president.
This edition's "Inside Washington" column from our governmental affairs department breaks out the bill's details and what it can deliver to each state, so I urge you to read that for specifics of the bill that will affect your business. Overall, we are looking at $11.7 billion over five years appropriated to each of the two State Revolving Funds, about $1 billion more annually for each fund than what Congress has given each year over the past decade. There is also about $15 billion for lead service line replacement, and about $65 billion for broadband access for mostly rural areas, distributed through grants to states.
There is also $110 billion coming for surface transportation, $73 billion for the national electric grid, $21 billion for environmental remediation projects, $7 billion for electric vehicle charging infrastructure, and $1 billion for municipal gas distribution pipe replacement. And the nation's surface transportation law is now authorized for another five years, helping to smooth out resource allocation and funding.
We all should be proud of what our legislative program has accomplished: we've got a truckload of new resources heading our way. Our fall Washington Summit could not have been more perfectly timed, and those NUCA members who attended were able to personally push for this bill when they visited their own lawmakers on Capitol Hill. This was a team effort—and the team made the touchdown.
I think you'll agree with me that this news is a great way to end this year. It's also the time of the year to remember the sad news of this past year, such as that of NUCA of New Jersey's president Joe Walsh, who left us prematurely in August. We're still feeling the effects of the Covid-19 pandemic, so please remember with a quiet prayer those in our industry and your employees who have suffered in 2021.
Your employees are your key to a successful business. Show your appreciation to them this season, and remind them that due to their hard, dirty work they deliver life, safety and prosperity to everyone in their community.
I hope that you are also thankful for the happiness in your own personal and professional life. Each day in 2021 your company and your employees depended upon you, your wisdom, and your courage. All of us have much to look forward to in 2022.
From my family to yours, I wish you a Happy Holiday, a Merry Christmas, and a Happy and profitable New Year.
Sincerely yours,
Lauren Atwell, NUCA Chairman of the Board / Petticoat-Schmitt Civil Contractors, Inc. Tags: Chairman's Message, November December 2021 Print Issue