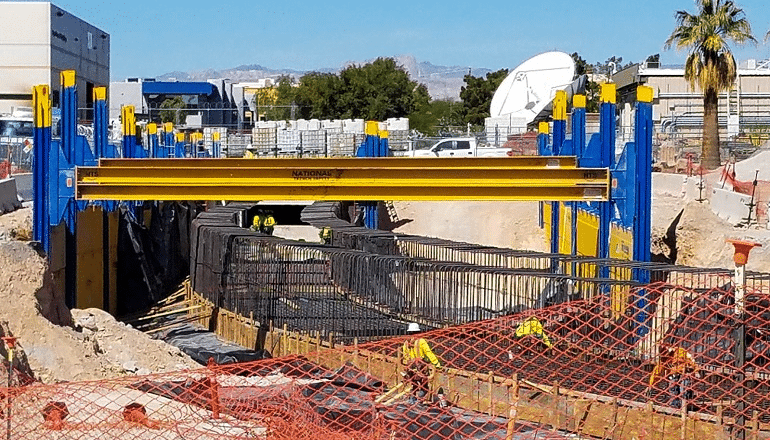 A Las Vegas contractor was tasked with constructing new culverts and replacing deteriorating culvert lines located on the grounds of a future sporting arena. The project would require an excavation cut of 150-ft in length with a width of 32-ft and a depth of 16-ft. The second excavation required a linear run of 250-ft with a width of 27-ft and 35-ft in depth on a hard rocky terrain classified as Type-B soil by the Competent Person on site.
The project would be divided into multiple phases. The contractor needed to complete the project quickly as the contractor's scope of work would need to be completed before other contractors could begin their portion of the project. The project site presented a challenge with a live road in close proximity to the excavation cut. Heavy duty construction machinery and equipment would be stationed on the opposite side of the excavation. The contractor would require a protective system that could provide proper vertical clearance while addressing the pressure load caused by live traffic. Additionally, the protective system would have to extend its width capability to properly secure both sides of the excavation.
After reviewing several protective systems, the contractor selected a linear slide rail system from NTS with a sheeting guided frame. A slide rail system is a versatile protective underground system that can be used with a wide range of applications and paired with several modular components. For this project the linear slide rail system would change its configuration as sections of the culvert poured in place were completed. The initial underground configuration would be composed of a 12-bay linear slide rail system with rolling struts inserted through the linear slide rail posts to provide the necessary support against the soil walls. The second underground configuration required a 10-bay linear slide rail system with rolling struts that would begin with 4 larger bays tapering to the necessary smaller size for the remaining 6 bays. The configuration would allow the contractor to construct a temporary ramp entrance directly below the excavation cut. This underground access would allow the contractor to easily unload the materials and equipment needed for the pouring-in.
All of the configurations provided the proper vertical and horizontal clearance for the culvert installation. Once the installation is completed, the new sporting arena and surrounding areas will have the adequate drainage flow and distribution of storm water minimizing the potential of flooding in the area. The contractor was extremely satisfied with the modular capabilities, easy installation and vertical and horizontal clearance provided by the slide rail system.