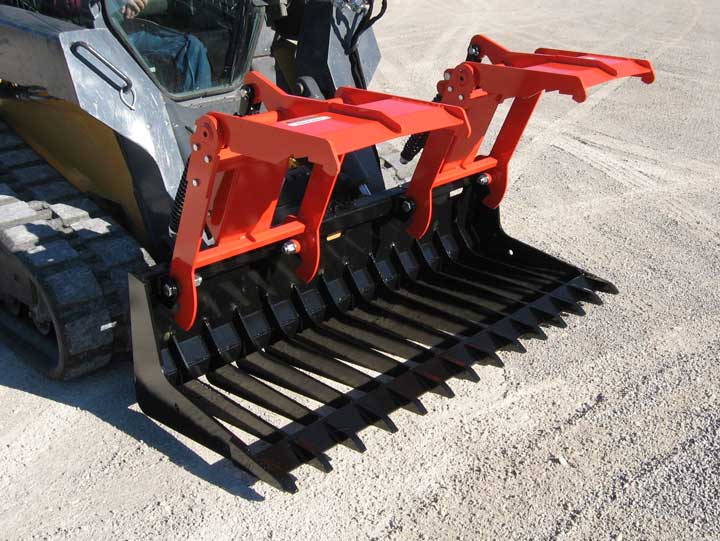 Worksaver Inc. has recently introduced two new grapples to its family of Sweep Action Grapples, the SATG (Sweep Action Tine Grapple) and SASB (Sweep Action Solid Bottom Construction Grapple).  These models feature a patent pending grapple design that sweeps debris into the bucket, reducing clean-up time.  Material is moved into and retained in the bucket when the cylinder overcomes the spring pressure, causing the front rake to rotate towards the bucket in a sweeping motion.  Available in 72-, 78- and 84-in. models.
The SATG Sweep Action Tine Grapple offers an open tine bottom with its sweep-in grapples, making it ideal for handling site demolition debris, rocks, brush, wood and metal. The sweeping action allows operators to pick up small materials without leaving the cab, eliminating hand clean-up, while leaving the dirt behind.
The SASB Sweep Action Solid Bottom Construction Grapple is also equipped with sweep-in grapples and features a scrap yard tested solid bottom low profile bucket.  The bucket bottom is made of abrasion resistant steel with (three) ½-in. x 4-in. reinforcing wear strips for longer bucket life.  The bucket cutting edge is drilled to accept a bolt-on beveled (reversible) cutting edge, increasing the durability and life of the bucket edge
Check out more articles about Worksaver Inc. here.
Tags:
Sweep Action Grapple
,
Worksaver