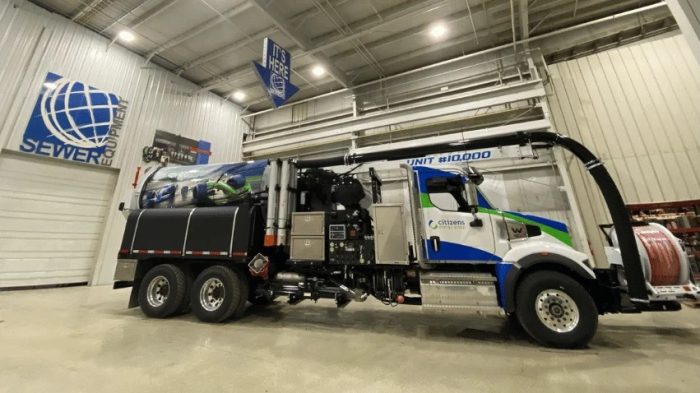 Sewer Equipment proudly celebrates 82 years of business this year. Our company's history began in 1941 in a garage in Park Ridge, Illinois, with a simple idea of a tool to unclog kitchen sinks. In the 1970s, the second generation of O'Briens developed several machines in Chadwick, Illinois. The company has continued to evolve developing safe, simple, and reliable solutions for municipalities, plumbers, and industrial contractors from its home in Dixon, Illinois. In June 2023, Sewer Equipment manufactured its 10,000th unit, a Sewer Equipment Co. of America Model 900 ECO combination sewer cleaner truck – a production milestone for the company.
"My grandfather's philosophy was that the simplicity of the product was critical. A more simple machine was safer, easier to operate, easier to maintain, and thus more productive and cost effective. The combination of this philosophy and our great employees are the reasons for our success. We are humbled to reach this important milestone, 10,000 units produced!" said Dan O'Brien, Third Generation Owner.
Brown Equipment Company, a Sewer Equipment Dealer Partner, sold the 10,000th Model 900 ECO unit to Citizen Energy Group located in Indianapolis, Indiana. Brown Equipment is a full-service heavy equipment dealership founded in 1968 in Fort Wayne, Indiana. It has since grown to become one of the leading heavy equipment dealerships in the Midwest. Brown Equipment offers a wide variety of products and services, including sales, rentals, parts, and service.
"We were ecstatic to learn that the 10,000th unit was sold to Citizen Energy Group to serve Central Indiana," said Joseph W. Fisher, CEO of Brown Equipment Company. "Citizens is one of the Midwest's leading providers of water and wastewater services among their other utility services, such as natural gas and thermal energy, and we have the fortunate opportunity to provide them with the high-quality Sewer Equipment product line to best maintain their infrastructure."
"We appreciate working with the professional staffs at both Brown Equipment Company and Sewer Equipment," said Jeff Willman, Vice President of Water Operations at Citizens. "We congratulate Sewer Equipment on this important milestone and look forward to continuing our excellent working relationship."
Tags:
Sewer Equipment