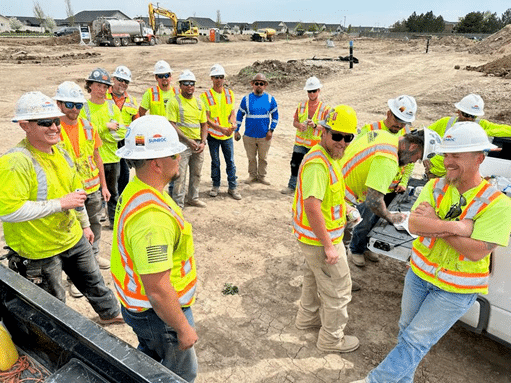 More than 2,500 excavation shoring workers, contractors, and colleagues participated in training, education, and demonstration activities in NAXSA's first annual "Shore Up for Safety Week," May 1-5, 2023.
As participant sign-in records continue to be tallied, the numbers tell a story of success:
• 106 NAXSA members from 44 NAXSA companies registered to deliver lifesaving events and materials to excavation shoring workers and their colleagues.
• 41,000 event hardhat stickers – with a scannable QR code providing instant access to NAXSA safety resources – were requested by hosts to distribute during the week and beyond.
After a full week of events that teach and train, dig and demonstrate, a broad, new field of workers and their colleagues are now ready to save a life, prevent a life-changing injury, or spark a teammate to become a new lifesaver by learning how to help protect the safety of his or her coworkers, Nationwide, participants went home with new knowledge and tools to share with others – a world of vital material in their hardworking hands.
NAXSA member organizer of the 2023 event, Dawn Morse of DP Nicoli, commented, "Shore Up for Safety Week 2023 was a great success. Promoting safety awareness… reaching workers in the field… it's terrific to see tangible progress as we move toward our goal of ZERO trench deaths."
NAXSA Executive Director, Melanie McKee, added: "The level of interest floored me, especially based on the orders we fulfilled. The generosity of volunteers was a joy – particularly the comprehensive materials they prepared to make the process easy to manage so many could participate. Together, we built a strong platform for years to come."
Event hosts and lead organizations include:
Beacon Mutual Insurance
C & D Hughes Inc
City of Laredo
Clearwater Landscape Services
Competitive Edge Partners
D.P Nicoli
Dennis Taylor and Company, Inc.
Eagle HDD LLC
Elite Electric Inc
Full Nelson Services
Gary Carlson Equipment
Granger-Hinter Improvement District
Icon Equipment Distributors, Inc.
KARM Safety Solutions
L & M Underground
Loreal
MC3 Solutions, LLC
McClam & Associates Inc
National Trench Safety
North Atlantic Aerial Imagery, Inc.
Northeast Site Contractors
Ohio Bureau of Workers' Compensation
Pinnacol Assurance
Plumb Works Inc
Pro Civil Construction Ltd
R Nichols Civil Contractors
Region V-OSHA
Rey-Mar Construction
RSBOJC Irrigation
Santa Margarita Water District
Scenario
Standard Drywall
Stassines Cross
Steel Creek Inc
STERIS – AST
Sunbelt Rentals – Shoring Solutions
Sunroc
Sunstate Equipment – Trench Safety
Team Fishel
Timberline Enterprises, LLC
Trench Shore Rentals
Trench Shoring Company
TRENCH-ADE
Underground Construction Company Inc.
As NAXSA continues to tally the results and learn all it can to build on the inaugural event's success in 2024, organizer, Morse, offers one final thought. "The week is over. The sign-in sheets are coming in. But our mission to advocate for owning your personal safety is ongoing!" Tags: NAXSA, Safety