Vermeer has released its Mix Master™ line of reamers as well as its QuickLock™ two-part epoxy thread-locking compound.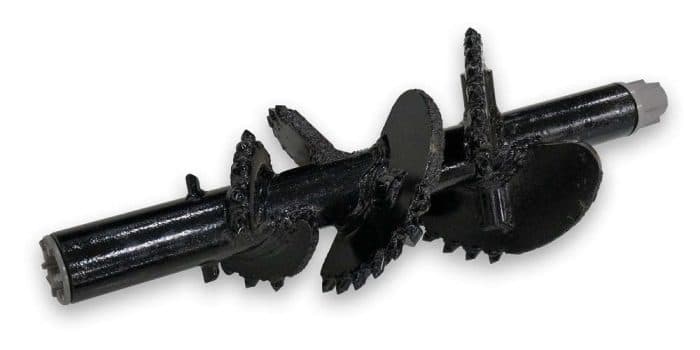 The Vermeer Mix Master™ HD (MXHD) reamers are a new solution for opening horizontal directional drilling (HDD) boreholes in sandy loam, sticky clay and other reactive ground conditions. These reamers have a unique design that directs fluid to the cutting teeth where it is needed, maintaining bore integrity and hydrating the bore path and cutting teeth. This allows for efficient slurry flow and cuttings removal. Threaded shaft sizes are available in a variety of sizes with cut diameters ranging from 6 in to 36 in (15.2 cm to 91.4 cm), making the Vermeer MXHD reamers ideal for small utilities and large-diameter HDD applications.
"The hydro distribution design of these reamer mixes cuttings with drilling fluid and discharges the resulting slurry out of the borehole with directional fluid control," explained Cody Mecham, Vermeer Cutting-Edge product manager. "This helps manage the risk of the drill operator outrunning their mud during the reaming process. Moreover, fluid ports are always located near the cutting structure, regardless of the cut's size, limiting areas where mud can accumulate on the plates."
Vermeer MXHD reamers have an intentional plate angle and engineered open spaces that promote slurry passage and efficient movement of cuttings. On mid-size and larger reamers, plate openings and optimized angles also facilitate slurry flow and help move cuttings behind the reamer.
Small rotary teeth on the Vermeer MXHD reamers minimize overcutting while maintaining the integrity and accuracy of the bore wall. These teeth are strategically mounted in a spiral pattern on the plates, resulting in a smooth pullback and a clean cut. This geometry helps mitigate wandering and cuts an accurate bore path.
Vermeer prioritizes durability with the MXHD reamers, achieved by increasing plate thickness and adding reinforcing gussets to angled plates on mid-size and larger reamers. The efficient, progressive plate design steps the hole up to the full diameter, with initial plates increasing the diameter in 2-in (5.1-cm) increments while the final plates finish cutting in 4-in (10.2-cm) increments. These enhancements help the MXHD reamers be durable, accurate and productive.
"We are excited to introduce the Vermeer Mix Master HD reamers to the market," said Mecham. "These reamers represent a significant advancement in fluid management technology, and we are confident that they will provide our customers with the high-quality performance and reliability that they have come to expect from Vermeer HDD tooling."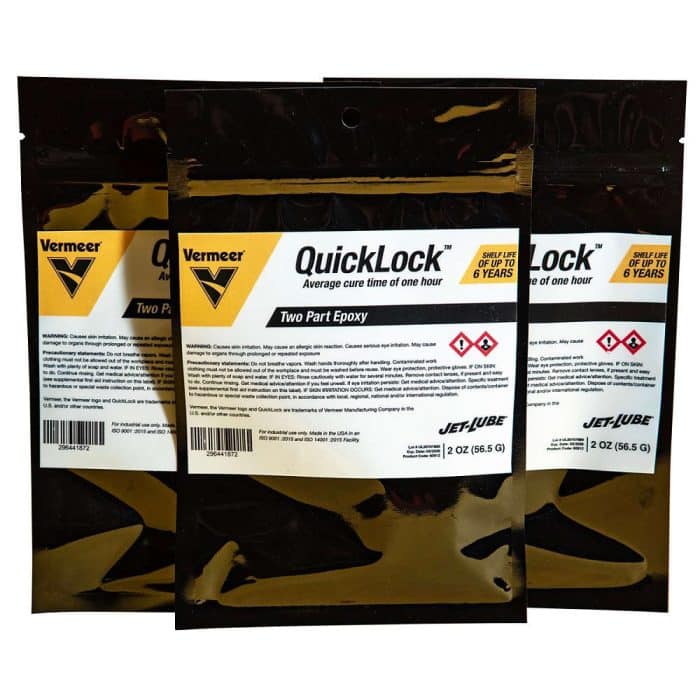 The Vermeer QuickLock™ two-part epoxy thread-locking compound stabilizes threaded connections between the drive chuck and sub saver of a horizontal directional drill (HDD). It cures in as little as one hour, instead of the industry-standard 24-hour period, so HDD crews can get back to drilling quickly after swapping out the sub saver.
Vermeer Cutting-Edge Product Manager Cody Mecham explained, "In the past, HDD crews often chose to wait until the end of the shift to replace a worn-out drill sub saver because of the time it takes traditional thread-locking compounds to cure. With Vermeer QuickLock epoxy, new crews can replace the sub saver, go to lunch and get back to drilling. This not only helps crews work efficiently but can help prevent thread damage to drill rods because worn sub savers are being replaced sooner."
Vermeer QuickLock epoxy comes in a convenient 2.3-oz (65.2-g) double-section plastic pack that keeps the resin and catalyst separate. It can be quickly mixed within the pack before applying to the threaded joint. It is zinc-free and has a shelf life of up to six years, compared to the normal six-month shelf life of many other thread-locking compound products.
"The extended shelf life and quick cure time make it simple for crews to maintain the sub saver and maximize the life of their drill rod threads," said Mecham. "It's an economic and durable option for threaded tooling connections that require a strong permanent bond."