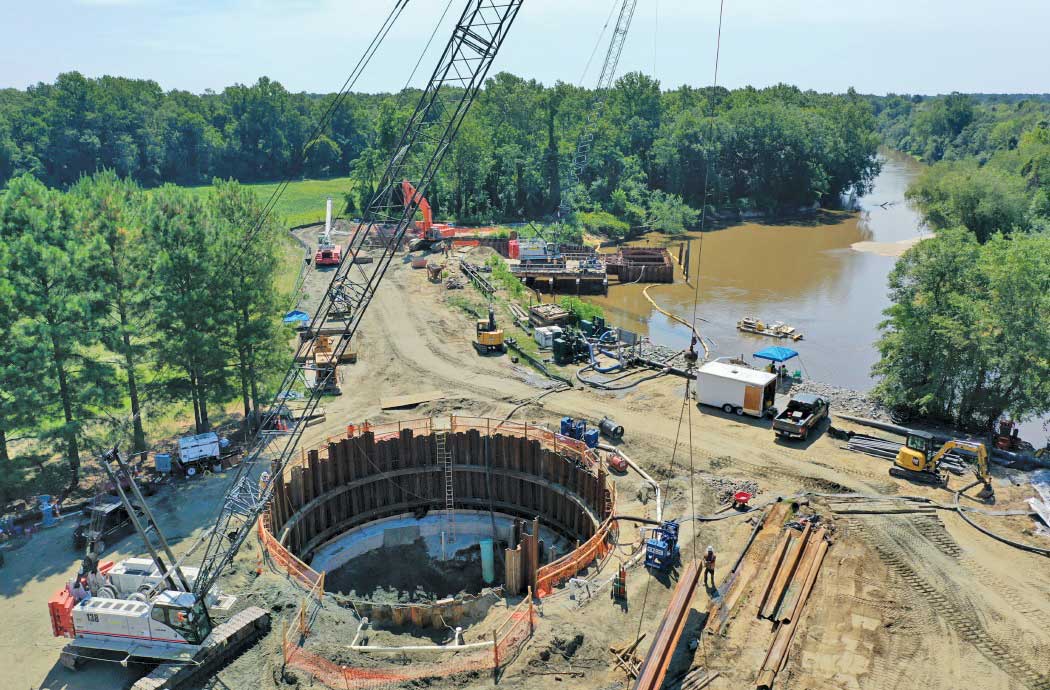 Editor's Note: In each issue, Utility Contractor profiles NUCA's Top Jobs winners. The 2022 awards are being renamed the Excellence in Underground awards. The projects recognize challenging, innovative, or unique projects completed with excellent results. To nominate your project for an Excellence in Underground Award, visit: https://www.nuca.com/excellenceunderground
The Neuse River Water and Sewer Authority Raw Water Intake Project was one of the most incredibly challenging jobs T.A. Loving of Goldsboro, N.C., has tackled in its history. The project involved the installation of new intake screens for the Neuse Regional Water and Sewer Authority (NRWASA) in Kinston, N.C.
The existing intake screens were constantly buried in silt and unable to perform efficiently due to increasingly high flow rate and rising/falling river elevations. T. A. Loving's collaborative efforts in problem-solving included subcontractor, owner and engineering expertise, opinions and experience as much as the company's own. The solution required the installation of new intake screens downriver in deeper water and with better alignment with the river.
The new intake screens were installed in the Neuse River at a depth of 30 ft and were connected to the two 36-in. existing screen piping. To prevent silt accumulation, two 6-in. HDPE air burst lines were installed at the intake screens. Operator controls, control panels and air burst tanks were installed in the existing pump station.
The project presented special project management challenges working in an active river basin. The team installed two cofferdams to safely complete the project. Careful schedule management and planning were used to minimize the impacts of river flooding.
The first cofferdam was installed in the Neuse River, creating a "dry" environment to install the new screens; this was accomplished by installing a 25-ft x 50-ft sheet pile cofferdam designed to support 25 ft of water.
The two screens installed were 55 in. in diameter and approximately 14 ft long connected to a manifold in a "T" shape. The screens are supported by eight steel pipe piles filled with concrete. Each steel pile is 18-in. in diameter and 40 ft deep. Lastly, twelve 18-in. steel pipe piles were installed around the perimeter of the screens as protective bollards.
The second cofferdam was 60 ft in diameter and 30 ft deep. This was installed to complete the tie-in work on the shoreline to connect the new screen piping to the existing piping.
A shoring design that used a combination of sheet piles and trench boxes were implemented to install the deep 36-in. pipe. These design solutions were critical in tackling the complexity of this project. The final portion of the $4.8 million project included site work components such as grading of riverbank, placement of 4,000 tons of rip rap on the riverbank, and 2,000 cubic yards of river dredging.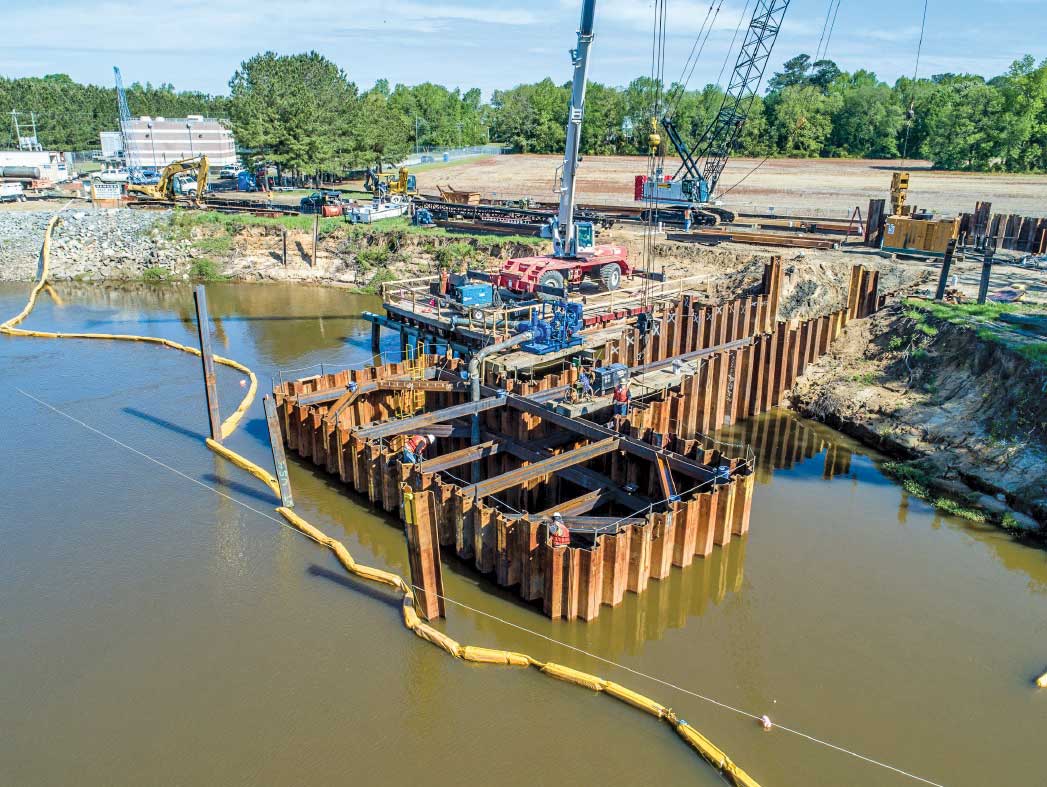 Challenges and Innovative Ideas
The environment provided challenges, including river moratoriums prohibiting in-water work during certain months to allow for the seasonal migration of spawning fish; and higher than average rainfall amounts that produced historical river flooding. To combat the flooding that occurred, T.A. Loving pivoted easily to dewatering the site to successfully complete the project on time.
The first cofferdam was installed in the river, creating a dry environment to install the new screens. T.A. Loving constructed a temporary 50-ft work bridge which provided better access to the work site for crews and machinery. The bridge created a stable base from which to operate and excavate. Because the work involved a deep excavation in an active river basin that produces strong currents with rising water, T.A. Loving's safety and project teams met extensively to plan/provide safety training.
The second cofferdam was installed to complete the tie-in work on the shoreline to connect the new screen piping to the existing piping. Several well points and pumps were installed around the perimeter to dewater the excavation and maintain a safe, dry working area. Through effective preplanning and prefabrication of pipe, fittings, and valves, T. A. Loving completed the complex tie-in in two days.
The Neuse River Raw Water Intake Screens project was a challenging job that required an effective and proactive approach to project delivery. This is crucial to the success of any project T.A. Loving believes that is its responsibility to clients and our trade partners. The company believes its solutions were helpful, and can be best illustrated by a quote from trade partner, Thomas G. Best of Best Sand and Gravel, "T. A. Loving's attention to detail provided within logistics planning, coordination and safety provided an efficient project throughout. The leadership was outstanding, and their management team did an excellent job in scheduling every aspect of the work we were involved in—all the while being keenly aware of utilization."
Benefit to the Client and Community
Water is a natural resource that many in the United States take for granted. It is used in our daily life activities: to drink, wash dishes, wash clothes, shower, even flush a commode. The misconception that water is abundant and inexpensive is prevalent and little thought is given to understand the process or cost associated for the convenience of clean, safe water. The first step to supply clean water begins with collecting raw water. Raw water is defined as water that has not been treated to remove harmful minerals, ions, particles, bacteria or parasites and in this form is unsafe for human consumption. Raw water can be rainwater, groundwater, infiltration wells, or bodies of water such as lakes and rivers. To harvest river water, intake screens filter the water for debris during the extraction process then pump it to a treatment facility for further treatment. The Neuse River Raw Water Intake Screens project for Neuse Regional Water and Sewer Authority (NRWASA) is an important water collection component in Lenoir County's water resource management plan.
"During my career, I have had the opportunity to work with TA Loving Company (TALCO) on several projects. My first experience with TALCO was after Hurricane Floyd of September 1999. As the Water Resources Manager with the City of Kinston, Hurricane Floyd flooded portions of the City and the City experienced several sanitary sewer main cave-ins. The City of Kinston was fortunate enough to contract with TA Loving Company to assist in making the repairs in some deep and extremely dangerous areas. TALCO performed the work very professionally and always put Safety first," wrote Harold Herring, NRWASA Executive Director.
"My last 18 years as the Executive Director with Neuse Regional Water and Sewer Authority (NRWASA), I have also worked with TALCO on several projects of which TALCO has also performed their work very professionally and safely. TALCO has assisted NRWASA with replacing its Air Burst System to the river screens from stainless steel to HDPE on four NRWASA screens. TALCO has also just completed the installation of two new 7.5 MGD screens, a new 36-in. connection from the new screens to connect to the two existing 36-in. raw water intake pipes, installation of interconnection valves and a new bypass connection for emergency operations at a cost of $5 million. Again, the work was performed very professionally and safely by the TALCO staff."
Project-at-a-Glance
Project Name: Raw Water Intake Project
Project Owner: Neuse River Water and Sewer Authority
Location: Kinston, NC
Contractor: T.A. Loving Co.
Tags:
January/February 2022 Print Issue
,
Top Jobs