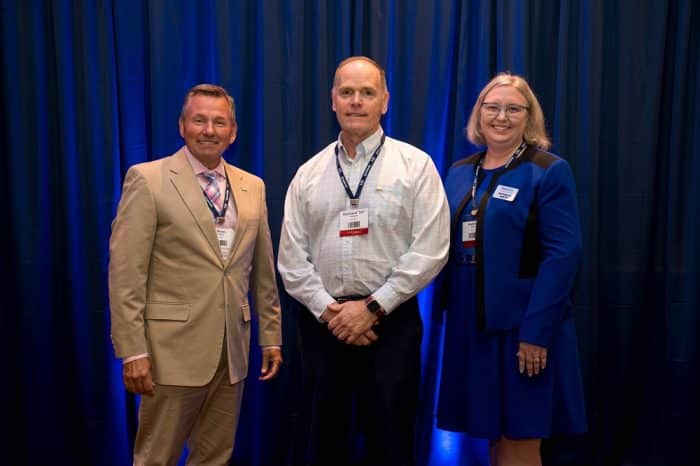 The Kansas City Board of Public Utility's Senior Civil Engineer, Durward (DJ) Johnson, has been named a recipient of the prestigious 2023 George Warren Fuller Award by the American Water Works Association (AWWA). The award recognizes Johnson's distinguished career and leadership roles in the BPU water utility division, as well as his leadership role within AWWA itself.
The George Warren Fuller Awards are presented annually by AWWA to individual sections' respective selected members for their distinguished service to the water supply field in commemoration of the sound engineering skills, interpersonal skill, and the constructive leadership which characterized the life of George Warren Fuller. This award, established in 1937, may be given each year to a member of the AWWA, one for each section. Johnson was presented this award recently at the annual conference of the Kansas Section (KsAWWA) of the AWWA and the Kansas Water Environment Association (KWEA). The Class of 2023 Fuller Award recipients will be recognized at the AWWA Annual Conference and Exposition 2024 in Anaheim, California.
DJ Johnson has worked at BPU for 32 years, starting with BPU as an Associate Engineer and has served in a variety of leadership roles in the BPU Water Division including Plant Superintendent and Director of Water Processing. Some of Johnson's greatest accomplishments at BPU include assisting with maintaining operations of the Quindaro Water Plant through the 1993 flood event. Johnson also oversaw the start-up, transition of operations, and training of staff for the new Nearman Water Treatment Plant (NWTP) in 2000. He also led implementation of an electronic maintenance management system for the NWTP.
Johnson has served in a number of water association leadership roles including serving on the KsAWWA Board of Directors, KsAWWA Vice Chairman and Chairman of the KsAWWA for 2020-2021. Johnson was also awarded the KsAWWA Operator Meritorious Service Award in 2022.
Johnson graduated from Southern Illinois University if 1989 with a BS in Civil Engineering. Prior to coming to BPU, he worked for Black & Veatch for two years.
Johnson is actively involved in his church on the Youth Ministry Board, and as a former elder and bible study leader. He is involved with youth sports – coaches middle school basketball at a private school and volunteers at Metropolitan Lutheran Ministries.
BPU's water department was originally created in 1909, and its electric utility was operational in 1912. Today, the publicly owned utility serves approximately 65,000 electric and 53,000 water customers, primarily in Wyandotte County, Kansas.
Tags:
BPU