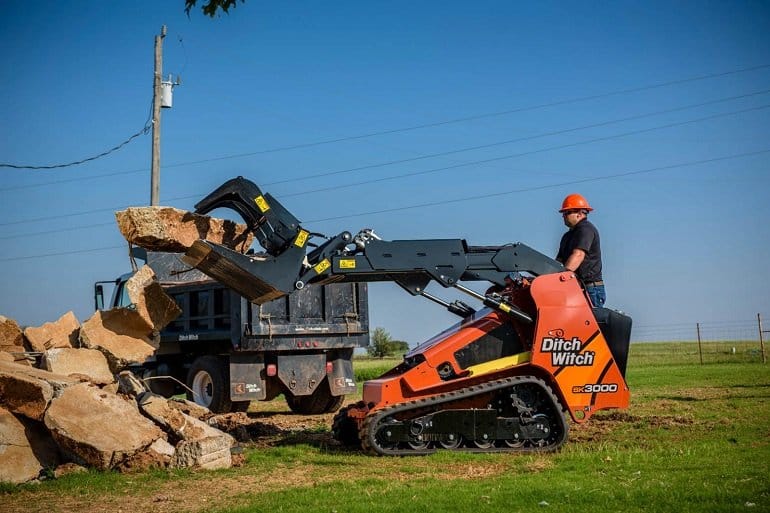 Underground construction workers, landscapers and golf industry professionals can now step outside of the cab and gain a 360-degree view of the jobsite, without compromising power needed for larger jobs, with the new Ditch Witch SK3000 stand-on skid steer.
As the most powerful and largest Ditch Witch stand-on skid steer to date, the SK3000 is built to take on landscape, hardscape and tree-care projects usually reserved for traditional skid steers and compact track loaders. However, its design offers the convenience of not climbing in and out of a cab, 360-degree visibility and increased maneuverability over traditional models.
"The SK3000 has the power, lift capacity and stability to complete the larger jobs that a traditional skid steer can, but it comes with the ability to easily step on and off the operator's platform and have increased visibility while operating the equipment," said Chris Thompson, Ditch Witch product manager, compact equipment.
The SK3000 is the most powerful stand-on skid steer in its class. It has a lift capacity of 3,100 lbs – 50% more than its closest competitor. It can direct up to 51 hp to attachments, so they can be used more efficiently and productively on a wide range of jobs. And it delivers 5,500 lbs of breakout force to help operators lift and move heavy loads with a bucket.
At the same time, the SK3000 only weighs 7,600 lbs – much less than comparable full-sized skid steers. This makes the SK3000 a more maneuverable and easily transportable option for contractors and operators, ultimately saving money.
In addition, the SK3000 is designed to make jobs easier for operators. It has an optional dual self-leveling kit that keeps loads level as they are raised or lowered. An open, standing operator station provides full 360-degree visibility. And its best-in-class 332-sq in. operator platform helps keep operators comfortable on the job.
The SK3000 can also boost job productivity with its advanced hydraulic system. It comes with an 8-, 14- and 22-gpm flow setting — the 22-gpm setting is a Ditch Witch exclusive. This allows operators to select the right flow for each job, improving productivity. Hydraulic-operated attachment pins also simplify the process when swapping attachments – and operators don't even need to get off the machine to swap non-powered attachments.
RELATED: New Ditch Witch JT24 HDD Packs Power, Durability Tags: Ditch Witch, Skid Steers