John Deere had one of the largest presentations at CONEXPO in Las Vegas with three of the largest (and crispest) video screens we've ever seen. But underneath that flash was a lot of substance, in the form of new machines that filled in lineup gaps and new service promises that will have a big impact on efficiency and uptime.
New machines to note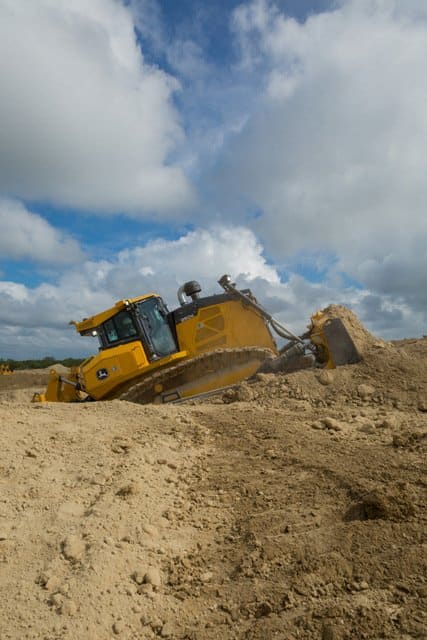 The 950K Crawler Dozer is the second production-class crawler dozer designed and manufactured by John Deere in Dubuque, Iowa, and is built specifically for customers needing reliability in road building, site development, the energy sector and other large-scale applications. This machine levels the playing field of what a dozer can accomplish in its size class with numerous enhancements that promise more power, productivity and uptime than ever before.
The 950K incorporates an EPA Final Tier 4/EU Stage IV John Deere 9.0L engine with 265 horsepower. Contractors will quickly realize that the efficiently designed hydrostatic powertrain will get approximately 15 percent more power to the ground versus a conventional torque-converter powertrain. Available in standard and low ground pressure (LGP) configurations, this dual-path hydrostatic transmission allows an operator to push a full load through turns without losing material, unlike conventional torque-converter transmissions on competitor machines.
Equipped with standard electro-hydraulic (EH) controls, the 950K is grade-control ready, making adding a grade-control system as easy as plugging in the components, calibrating and going to work. John Deere's "open-architecture" design lets customers easily employ their favorite brand of grade-control system — Trimble, Topcon or Leica. In the near future, the 950K will also have SmartGrade capabilities, with integration of a Topcon 3D-MC2 grade control system installed at the factory.
John Deere also continues to upgrade its G-Series excavator lineup with the introduction of the 30G compact excavator, filling a portfolio gap for customers looking for a solution in the three to four metric ton class.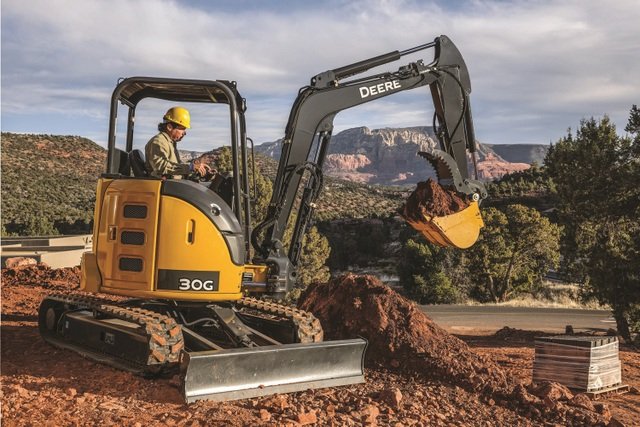 The 30G will provide customers with an additional model in the popular three to four metric ton size class of compact excavators. It also provides an updated model to the 27D with similar, albeit improved operation specifications and features, such as:
• A 22 percent increase in bucket force (compared to 27D)
• An 11 percent increase in arm force (compared to 27D and 26G)
• A 17 percent increase in net engine horsepower (compared to 26G) without the use of aftertreatment (similar to 26G)
• A 16 percent increase in auxiliary hydraulic flow (compared to 27D) and a 32 percent increase compared to 26G
• A nine-foot, two-inch dig depth, which is an eight-inch increase (compared to 27D and 26G)
To provide better return on investment and higher utilization, the 30G will utilize 27D/26G buckets and attachments that customers may already be using in their fleet. The 30G will come equipped with all the standard G-Series features customers have come to expect, including mechanical pattern changers, quick couplers and proportional auxiliary hydraulics plumbed to the end of the boom. The 30G also utilizes many components that are common to the 35G. This will simplify parts tracking and maintenance as well as provide the reliability and durability John Deere excavators have already demonstrated in the market.
Big-time parts promise and new service center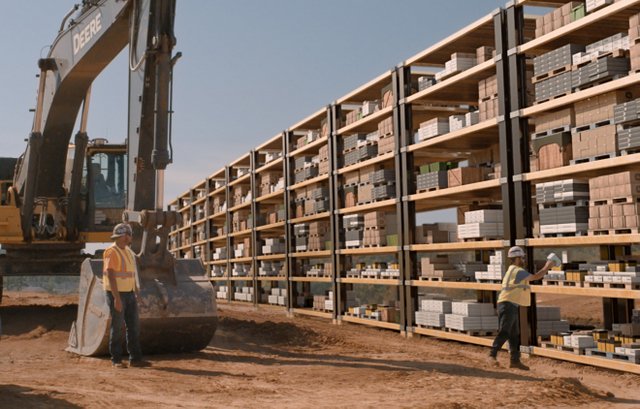 Building upon its pledge to help contractors increase uptime, John Deere announced the launch of its new Big Parts Promise program at CONEXPO-CON/AGG in Las Vegas. The Big Parts Promise is a commitment to construction customers that ensures availability of production-class equipment parts.
Under the Big Parts Promise, customers will have access to critical, quickly installed parts at their closest participating John Deere dealer. If the parts aren't in stock or supplied by the end of the business day, the parts are free. These are generally parts that can down a machine and be replaced within two to three hours – parts such as starters, alternators, injectors, turbos, relays, hydraulic hoses and water pumps. Additionally, major components are guaranteed to arrive the next business day or freight is free. This includes components such as engines, axles, transmissions, pumps, motors, valves and final drives.
Equipment covered in this program includes the 260E, 310E, 370E, 410E and 460E articulated dump trucks; 1050K crawler dozer; 470G, 670G and 870G excavators; and 744K-II, 824K-II, 844K-II, and 944K wheel loaders.
But that's not all. Located inside the mile-long Dubuque Works facility, the newly minted John Deere Machine Health Monitoring Center is changing how John Deere and its dealers analyze data and proactively support customers through mainstream technology. Additionally, the Moline-based manufacturer is formally launching the Machine Monitoring Center concept at CONEXPO-CON/AGG 2017. A simulated monitoring center is the centerpiece of the exhibit, and it showcases what John Deere dealers are doing everyday — monitoring machines and reacting and responding more efficiently to critical issues that can result in costly downtime.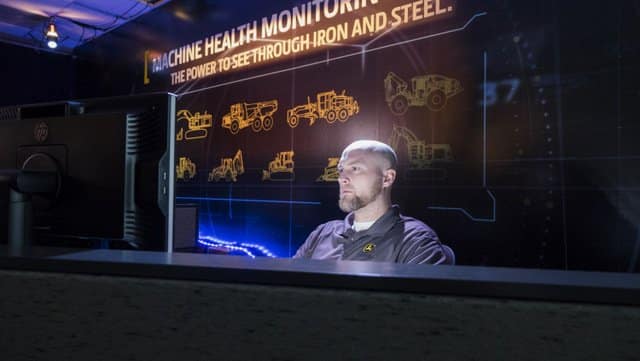 The Iowa-based Machine Health Monitoring Center is situated in close proximity to product engineering teams, as well as the men and women who build many of John Deere's construction and forestry machines. It is also the home to John Deere WorkSight solution engineers and product support experts. Within the Machine Health Monitoring Center, specialists with a deep understanding of the equipment and expert analytical capabilities develop solutions that nourish the manufacturer's monitoring services by analyzing aggregated machine data, identifying trends that warrant a closer look and then developing new and improved preventative maintenance and repair protocols.
Lastly: Drones.
John Deere and Kespry announced an exclusive global strategic alliance through which John Deere Construction & Forestry dealers will provide the Kespry Aerial Intelligence System to their customers on job sites around the world. Starting in North America, the alliance enables John Deere customers to use Kespry's fully integrated industrial drone platform to capture topographic data in minutes with survey-grade accuracy.
"This technology will help our dealers offer a seamless workflow to site development and road building contractors from project planning through grading dirt," said Andrew Kahler, product marketing manager, John Deere WorkSight™. "The data gathered from the Kespry system will help our customers and equipment operators make decisions that reduce costs and improve productivity as they optimize the job site and spend less time on jobs."
Founded in 2013, Kespry delivers a fully automated drone system that takes off, flies a designated flight path and lands – all without operator intervention. With the Kespry Drone 2s now available across the John Deere network, customers can easily create a mission with the touch of a finger, then capture, analyze and share survey-grade data and insights.
John Deere chose Kespry based on its interoperability with John Deere WorkSight technologies and ease of use for customers. The agreement between the two companies includes Kespry working with John Deere dealers to train and certify them in the use of the Kespry 2s platform.
Tags: crawler dozers, drones, John Deere