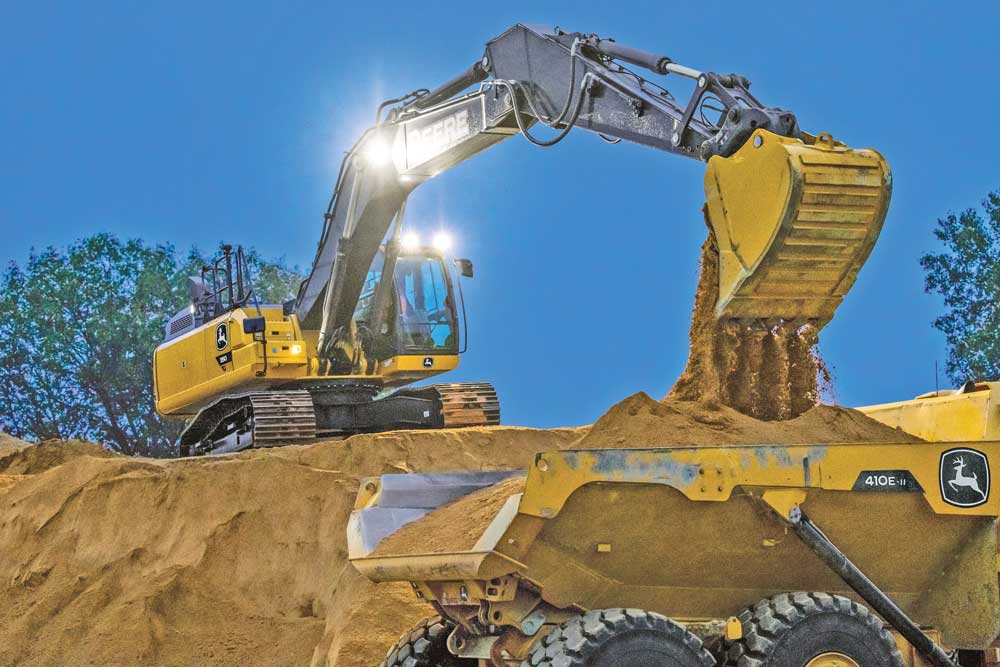 Equipment innovations have left an indelible mark on the utility construction in recent years, from fleet management software and telematics, to machine control and diagnostics. To catch up on some of the latest developments, Utility Contractor reached out to the experts at leading manufacturers John Deere and Komatsu.
Here, company representatives share their thoughts on what the latest developments are, and how they are impacting the utility construction market. Providing comments were Justin Steger, Solutions Marketing Manager, John Deere; Brandon Rakers, senior product manager, customer solutions, Komatsu; James Funk, product manager, customer solutions, Komatsu; Ron Schwieters, senior product manager, customer solutions, Komatsu; and Yoshio Nihei, product manager, Smart Construction, Komatsu.
1. What are the latest innovations?
Steger – Grade control – John Deere now offers the industry's most flexible grade management path with remote support for 210, 350, 380 and 470 excavators. Choose from 2D guidance, 2D control, 3D guidance, or full SmartGrade 3D control and upgrade at any time. This technology is supported by our John Deere dealers.
RRL cam – New for P-Tier excavators, John Deere now offers a Right, Rear, Left camera system with additional LED lighting. Optional on midsize excavators and standard on 470, 670 and 870.
HCR – Also new for P-Tier excavators, John Deere now offers a hydraulic coupler ready option. This provides factory installed hydraulic plumbing all the way to the end of the arm. Coupler controls are integrated into a dedicated switch in the cab.
Komatsu representatives highlighted the following: Intelligent Machine Control 2.0 for excavators (PC210LCi-11, PC290LCi-11, PC360LCi-11, PC390LCi-11); Smart Construction Design; Smart Construction Remote; Smart Construction Field and Smart Construction Dashboard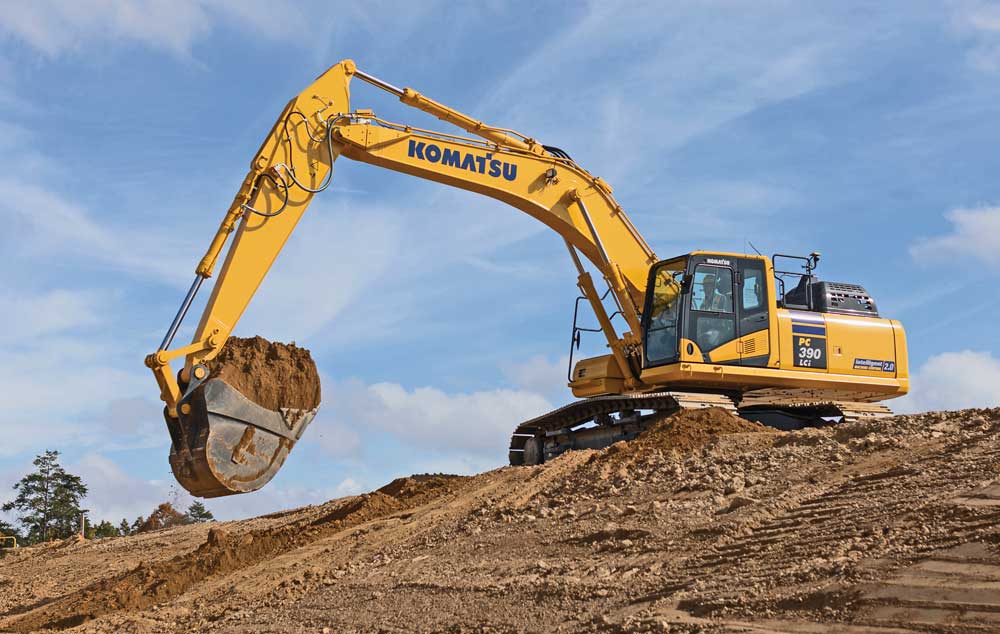 2. How is this impacting the utility construction market?
Steger – Grade control – 2D and 3D control enable multiple features and benefits, but for utility contractors, let's focus on the "overdig protect" feature. Overdig protect eliminates rework and increases efficiency. Hydraulically limiting the excavator not to dig beyond target grade means no wasted time or fuel excavating the trench. No rework due to over-digging. This means using only the precise, necessary amount of bedding material with no waste. Overdig protect will lower the cost per linear foot of pipe and allow contractors to bid accurately with no surprises.
RRL cam – The excavator is the lead machine on a utility jobsite, and the excavator operator has a lot to keep track of beyond the work directly in front of the machine. The Right Rear Left Camera system allows 270-degree visibility all integrated into the main monitor of the machine. The operator is now aware of their surroundings with just a quick glance at the monitor as needed. The additional LED lights that accompany each camera allow operators to work confidently regardless of lighting conditions.
HCR – Hydraulic quick couplers are essential for underground utility contractors. Switching between trenching buckets, compaction attachments, backfill buckets, and other attachments happens constantly throughout the day. The addition of the hydraulic coupler ready option allows factory integration and quality for hydraulic and electrical controls and is compatible with multiple coupler manufacturers. Dealers can provide compatibility details.
Rakers – Komatsu first introduced intelligent Machine Control (iMC) excavators back in 2013, and our iMC 2.0 offers additional new features that assist in utility applications. Bucket angle hold assists an operator in keeping the bottom portion of the bucket flat to the ground when cleaning up trenches and smoothing out bedding material.
In recent utility application studies, Komatsu has seen a 33% increase in productivity and a 47% reduction in bedding material needed, because of improved ac.
Funk – With Smart Construction design, part of Komatsu's Smart Construction suite of solutions, Smart Construction Design, our 3D modelers can turn customer designs into 3D models and takeoffs. Customers can submit their requests for modeling services through their distributor or directly through the Smart Construction section of MyKomatsu. With this unique OEM service, customers can expect quality work and know each model is built with their project and equipment needs in mind.
Nihei – With Komatsu's Smart Construction Remote, users can send new design data to machines in the field, and remotely support operators on machine control systems or data collectors from Komatsu, Trimble, or Topcon. The biggest benefit to customers is being able to send 3D models to machines from the office without physically having to visit a machine and upload manually. Customers can send files remotely from the office to target machines, easily search all connected assets, and log in to a machine and see what their operator is seeing. They can also easily pinpoint the location of machines by job site and upload or download design files at anytime from anywhere.
Smart Construction Field is a mobile app that allows contractors to easily record job site activity and analyze operational efficiencies in near real time. They can track labor, machine inspections, materials, and change orders, and can also log all site activites, task management, progress tracking and managing site photos and documents instead of through text and email. In a utilty application, customers can communicate directly with the office such as any time a pipe must be adjusted or an unknown obstacle presents an issue in the field. A customer utilizing the Smart Construction Field app can take photos and make progress changes on their phone.
Reports generated by Smart Construction Field can track daily job site conditions, and task progress can be broken down by labor, equipment and materials, including machine utilization and fuel distribution, receipts, timecards and subcontractor work. Regardless of equipment brand, Smart Construction Field can collect machine data from an entire fleet.
Schwieters – Smart Construction Dashboard can add a lot of value to a utility contractor by connecting intelligent Machine Control as-built data to a visual dashboard. Utilizing as-built data from Komatsu's intelligent Machine Control machines, from the office a customer can ensure sub-grade was correct and as-built points can be uploaded as an additional indicator that the pipe was placed in the ground at the correct location. Smart Construction dashboard connects Komatsu's machine to drone data to allow for jobsite progress tracking and timeline data if there were to ever be questions on a project that may have already been completed. Today customers are flying drones on site as frequently as weekly to ensure jobsite timelines are on time and material tracking for take-offs and or import of materials.
3. What can contractors expect in the near future?
Steger – John Deere has been working with National Grid, an electricity, natural gas, and clean energy delivery company serving more than 20 million people throughout the Northeast, to joint test an electric backhoe concept. The John Deere developed, battery-powered, electric vehicle design – referred to as E-Power – will target the ease of operation and performance level of the diesel-powered, 100 HP 310L Backhoe. The design is intended to meet the needs of utility contractors by offering substantially lower daily operating costs, lower jobsite noise, enhanced machine reliability, and zero tailpipe emissions.
Rakers – In the near feature, Komatsu is working toward connecting all things digital for customers. We offer a unique machine-based solution for free to customers called Komtrax which provides data on machine utilization, fuel consumption and idle time. Komatsu is looking to integrate that already great technology into Smart Construction as another level of connectivity between our technology solutions and our machines.
This article was compiled by UC staff.
Tags:
July August 2022 Print Issue