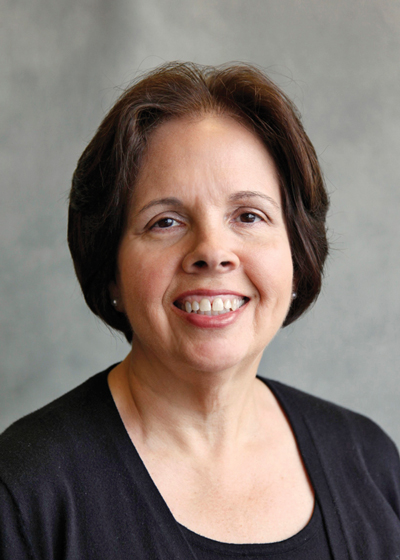 The utility construction industry is largely invisible. Not many people appreciate the work being done underground to ensure our daily lives go on without a hitch. Even more unnoticed is the support behind the many players in the industry. CNA has been providing insurance to business owners for more than a century and has been a proud member of NUCA for 25 years. The company supports the industry by handling the background work that allows contractors the opportunity to focus solely on strengthening our utilities.
Helen Prince, Underwriting Consulting Director for CNA's construction division, has put a lot of her energy into working with NUCA. Prince is extremely passionate about improving the construction industry, something NUCA took immediate notice to after she joined the association almost four years ago.
In recognition of her efforts, Prince was named the 2013 NUCA Associate of the Year and presented the honor at this year's NUCA Convention in Las Vegas. She says she's grateful for the distinction and can't believe how rewarding her career in the construction industry has been. And she wouldn't change a thing.
Embracing Construction
Prince got her start in insurance right after graduating from East Texas State University (now Texas A&M University — Commerce) in 1974.
"Back when I got started, there weren't very many opportunities for college graduates, particularly with a sociology and psychology degree," she says. "My mother worked for Continental Insurance. Continental was well-known for their underwriting trainee programs. That's how I began my insurance career, in the underwriting trainee program."
Continental merged with CNA at the end of 1994, and Prince was thrust into the construction sphere.
"CNA has a phenomenal ability internally to train people," she says. "I was assigned an agent, who at the time was the largest construction agent in the Dallas office. It was pretty much sink or swim. He was really great with actually getting me involved with the contractors from the standpoint of their perspective."
That man was Richard Daiker, Founder of K&S Insurance Agency, who Prince credits with her ability to establish personal connections with clients to build better business relationships. Daiker recently passed away after more than 40 years in insurance.
"Looking back to 1995, never would I have thought I would be sitting here today and be so passionate about what I do," she says. "[Daiker] was, in my mind, the person who really got me involved. CNA now really encourages our underwriters to get out and know our clients. That wasn't really talked about much when I got into the industry. We really were desk underwriters. This gentleman really wanted me to go out and meet these people, see what they do, understand them from that perspective. And that was one of the reasons why I got so involved."
She also cites CNA's Senior Vice President of Construction and Large Casualty John Tatum with being a great inspiration and encouraging her to be personable and involved on an individual level in the industry.
"I doubt there is an office within CNA that hasn't met and talked to John personally," she says. "He is a big supporter of knowing the people who do the job at the desk. He is the one that continues to support our ability to interact with these associations."
Throughout her tenure at CNA, Prince has worked in different underwriting and management positions, but construction has always been a strong focus.
"When other opportunities came about in the company, I said, 'don't take me out of construction,'" she says. "The people are the salt of the earth. They're the most honest, straightforward men and women I have ever worked with. I wouldn't want to do anything else other than work within the construction industry."
Prince is currently the Underwriting Consulting Director for CNA's construction division, a position she's had almost four years. Her job allows her the opportunity to be involved with different organizations and associations, including NUCA. She serves on the 2014-2015 NUCA Board of Directors and is involved with the Safety & Damage Prevention Committee.
CNA is NUCA's only Diamond National Partner and has been since 1988. Prince says it's important for CNA to be involved with organizations that focus on educating workers and improving the construction industry.
"NUCA is one of the targeted classes of businesses that CNA has, and we just feel that we, as an industry leader in construction, need to make our presence known that we do support these organizations not only with our time but with other sponsorships that keep them able to do what they do," she says. "In the construction industry, you go down the road and you see the roads being worked on, buildings being built, roofs being put on. But the NUCA industry is kind of an invisible one. No one really understands what goes on underneath our feet, as far as water and the sewers, the telecommunications that run this country. It's important that they get the support they need. That's what we are here to do."
NUCA Recognition
NUCA awards the Associate Member of the Year to a company or individual who has made a significant contribution on the national level to the industry. Still considering herself a "newbie" to NUCA, Prince says she was taken aback when she learned she won the 2013 award.
"John Deere, Caterpillar, Volvo and HD Supply Waterworks — among others — have been involved with the organization for probably as long as CNA. These [members] have been on the board of directors and have been huge supporters for a long time," she says. "Here I am, a little over three years [of involvement in NUCA] and being awarded this honor. I was awed and taken aback and extremely appreciative of the recognition."
People have told Prince that she brought a new energy to NUCA and the construction industry.
"After a period of time, things kind of go on in the same way and the same patterns," she says. "When I came aboard, I guess I put my own twist to it. I was so enthused about the job and so happy to be able to have the opportunity, that I wanted to be involved. They wanted to recognize me for that. It's a huge honor, and I am very appreciative to be recognized in that manner."
NUCA CEO Bill Hillman says Prince has earned her spot as a significant contributor to the association.
"In the few short years she has been the NUCA national liaison, Helen has taken our partnership to a new level of excellence, providing immediate, superb customer service," he says. "Helen has successfully helped NUCA identify and address many insurance issues and emerging trends that affect our members."
Gaining Insight
The best way to improve an industry is to have a group of people able to bounce ideas off one another. Prince says the networking opportunities in NUCA offer a tremendous advantage to contractors.
"When you go to these meetings and the conferences, you meet contractors that do what you do from all portions of the country," she says. "Digging in the dirt is different depending on where you work. In Boston, you have a whole different type of soil than you have here in Texas. They get to share methods and means in how to get the job done.
"There's a power in numbers," she continues. "The NUCA organization has been instrumental in getting some bills through Congress that we need to be able to fund projects country-wide. We cannot only improve on existing infrastructure but [also] build new."
CNA recently developed a new offering for subcontractors covering errors and omissions and pollution liability, which Prince says came directly from feedback from members of associations like NUCA.
"If you work in a specific geographic zone for so long, you just concentrate on what's in your own backyard," she says. "When you get an industry, country-wide perspective, which you do by getting involved with the associations, you hear various things about what contractors need in certain areas. That's why we continue to develop our coverage offerings to meet those demands."
Prince plans to continue to learn from others in the industry to improve CNA's offerings. Recognition as NUCA's 2013 Associate of the Year will only further help her cause.
"In the past, no one seemed willing to share ideas or information," she says. "I've seen a change in the past philosophy in the industry — contractors are [now] seeing it not as a competition but as the ability to learn from others. That's been the key to [improving] the industry."
Kelly Pickerel is a Contributing Editor of Utility Contractor.