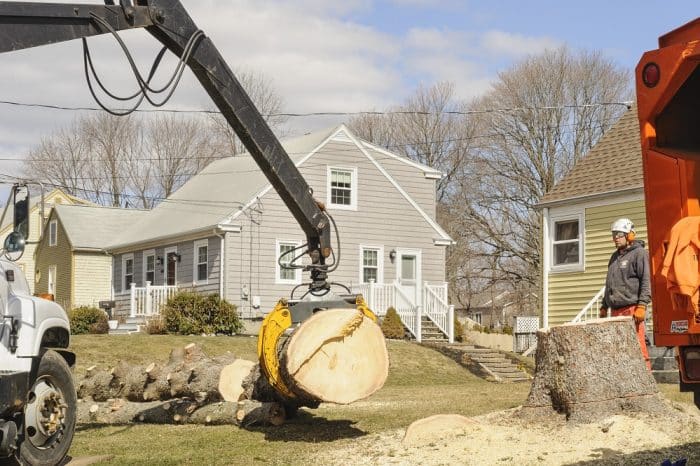 By Oscar Collins
Tree removal can be necessary for a range of reasons. Clients may have trees too close to their buildings or they may have become a liability due to age or disease. Utility contractors often need to remove trees to reach underground lines, but this practice can lead to unwanted damage.
Many utility companies have moved their lines underground, so it's even more important to be aware when removing trees. How can you protect underground utilities during tree removal?
Here are six strategies for a successful job.
1. Locate the Utilities
The first step is the most crucial in the early stages of tree removal. You must locate the utilities in the ground for the perimeter you plan to work. Send a technician to mark the ground using spray paint, flags or other obvious markers so everyone can see the utilities.
If necessary, notify the proper utility company in the area before starting your tree removal project. Some states require lengthy notice before removing shrubs and trees. For example, in Connecticut, you must give 15 business days before beginning the removal.
It's essential to identify all types of utilities — not just power lines. You may run into septic pipes, chemical lines and less common cables.
2. Communicate With Your Team
Tree removal can be a delicate process when considering underground utilities. One slip-up can cause headaches for your entire team and the surrounding community. These jobs emphasize the importance of clear communication with everyone throughout the process.
Prioritize effective communication among team members, stakeholders, utility representatives and more to ensure everyone knows who to contact throughout the process.
The tree removal crew must communicate and coordinate when executing the job. Make your safety standards known from the beginning by emphasizing the risk of utility strikes. Emergency response is necessary in case something happens to the utilities. Employees should be ready to respond if damage occurs during the removal process.
3. Know Your Drop Zones
Staying safe during tree removal starts with knowing your drop zones. Identify them to make the process more efficient. A concentrated effort prevents damage to utilities and minimizes the risk of injury to the crew.
Drop zones become even more critical when your project occurs in tight, narrow areas. Designate your drop zones as far away from the utilities as possible and ensure no equipment or vehicles are within the perimeter. If necessary, stretch the removal process by cutting down the tree in sections to control the situation better.
Sometimes, you'll encounter trees that OSHA considers to be dangerous. Communicate the laws for removing them to comply with regulations. For example, your crew must be at least two tree lengths away after falling until the feller acknowledges the ground is safe.
4. Check Your Equipment Weight
One factor utility contractors overlook is their equipment's weight. Heavy machines like cranes and excavators exert much force onto the ground, directly impacting the utility lines underneath. Sometimes, the utilities aren't deep enough, so they'll feel the impact of your machinery.
Deeply buried utility lines can still become damaged from tree removal equipment. For example, your machines could compress the soil and shift the ground underneath, compromising its ability to absorb water. The area could later face drainage issues or water pooling, leading to further damage.
When possible, use lightweight machinery with minimal impact on the ground. Hand tools are optimal, but you may need to use ground equipment. Opt for portable sawmills and wood chippers to avoid relying on heavy transportation machines. Portable chain sawmills start around $100, whereas band sawmills will cost about $4,000 on the lower end.  
5. Carefully Stump Grind
After removing the tree, you'll need a plan to stump grind. This is one of the most critical steps in avoiding utility line damage. Before starting the stump grinding, you should dig around the base to ensure no utility lines are in the area. Ask a colleague to stand nearby and monitor the site while stump grinding to have extra eyes on the ground.
When stump grinding, keep the swath tight around the base. When possible, use hand tools to have better control over your grinding blades. The last thing you need is for the machine to penetrate the soil deeply and damage the utilities.
The stump and its roots may be complicated to extract. One way your team can help itself is by using a skid-steer stump grinder. This machine efficiently removes underground stumps and speeds up the process. Skid-steers are generally lightweight and won't damage utility lines as they traverse the terrain.
6. Use Tunneling
Utility contractors have a few options for tree removal methods. Many companies use the trenching method, while others use tunneling. Reserve trenching only when it's vital.
Overall, tunneling is the best method when considering utility lines. It lowers restoration costs and saves time for all parties. Also, it minimizes the risk of disrupting utility lines and causing customer complaints. Your workers will benefit because it's safer than trenching, reducing the risk of cave-ins and exposure to hazardous materials.
Being Aware of All Surroundings
Tree removal is a necessary service for myriad reasons. Unfortunately, it can quickly interfere with utilities if you're not careful. Damage to power lines, septic pipes, sprinkler lines and other systems can disrupt an entire community.
Follow these six strategies to protect underground utilities during tree removal.
Oscar Collins is the editor-in-chief at Modded. He's written for sites like Contractor and StartupNation. Follow him on Twitter at @TModded for frequent updates on his work.