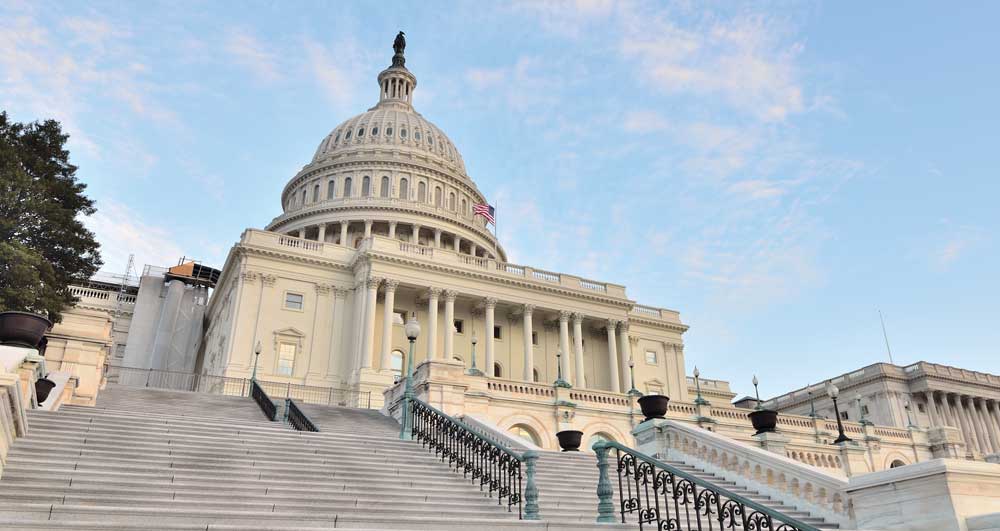 A Significant Victory for NUCA's Utility Contractors And Their Communities
On April 29, the U.S. Senate delivered a long-sought National Utility Contractors Association (NUCA) legislative goal with the passage of the Drinking Water and Wastewater Infrastructure Act (DWWIA) on a noteworthy bipartisan vote, sending this important bill (S. 914) to the U.S. House.
"NUCA members are praising the U.S. Senate for the passage of S. 914 with an overwhelmingly bipartisan majority of 89-2," said NUCA CEO Doug Carlson.
"This vote sends to the House a bill that promises $35 billion in investment over the next five years to provide clean water and economic growth to thousands of U.S. communities. NUCA members see first-hand every day the neglected water and wastewater infrastructure that they must repair. This bipartisan bill is a long-overdue investment in our nation's infrastructure that will create thousands of new jobs and help ensure millions of Americans have access to clean and healthy drinking water and safe, sanitary wastewater systems," said Carlson in a media statement.
Carlson thanked members of the Senate who made a down-payment on fixing America's leaking and outdated water systems. Alarming events over the last several years in multiple U.S. states such as Michigan, Mississippi, and Texas demonstrated that only with Congress's help and increased private investment can municipalities begin to address the more than half-trillion dollars in awaiting projects so our industry can fix this critical underground infrastructure.
Passage of increased water infrastructure investment has been a long-standing legislative goal of NUCA. "We've been working on this issue for decades," said Eben Wyman, NUCA Government Relations. "Congress has not reauthorized the State Resource Fund programs at levels near this magnitude since their inception. NUCA has made the case for action at every Washington Summit going back years, and our efforts are finally bearing fruit." S. 914 authorized $35 billion over five years for water projects, including $14.7 billion for the Clean Water State Revolving Fund (CWSRF) and $14.7 billion for the Drinking Water State Revolving Fund (DWSRF) over five years. This is a significant increase from prior appropriations for these funds, and the additional resources will be used to rebuild and renew infrastructure systems around the nation that are obsolete or deficient.
NUCA has advocated for this funding since the beginning of these programs, and the passage of this Senate bill is the biggest increase in funding the industry has seen in years. It is a significant milestone in the effort to reauthorize water funding that has been moving forward across several Congressional sessions for the last decade.
The CWSRF, which has been appropriated for but never reauthorized since its establishment in 1987, is the primary federal funding mechanism for water quality projects. It provides assistance to states through low-cost financing of projects. In 2019, the 51 state programs provided $6.2 billion in funding for water infrastructure projects. Over the last 10 years approximately $5.1 billion in additional subsidies were given as grants or forgiveness under CWSRF funds.
The DWSRF was created in 1996 and provides financial support to local water systems and to state safe water programs. In 2019, it funded $2.8 billion in new projects.
Securing funding for these programs at almost $15 billion is a significant increase in resources available for projects and a significant victory for NUCA and our members.
The drinking water section of the legislation also reauthorizes a drinking water resilience grant program, provides funding to replace obsolete lead service lines in schools, and supports other federal drinking water grant programs.
S. 914 shows that water infrastructure investment is a bipartisan issue, and it can serve as an important foundation for any broader infrastructure package. The legislation passed out of the Senate's infrastructure committee earlier this year on a 20-0 vote.
NUCA is grateful for the work of Senate Environment and Public Works Committee leadership to shepherd this long-awaited legislation through the Senate. Our industry extends a special thanks to Chairman Sen. Tom Carper (D-DE) and Ranking Member Sen. Shelly Moore Capito (R-WV), and subcommittee Chairman Sen. Tammy Duckworth (D-IL) and Ranking Member Sen. Cynthia Lummis (R-WY) for their support and enthusiasm. The two Senators who voted against S. 914 for final passage were Sens. Mike Lee (R-UT) and Ted Cruz (R-TX). The result of this vote demonstrates clearly that clean water and sanitary wastewater requirements are universal and bipartisan.
The bill now goes to the U.S. House for action. It is hopeful the House will take quick action on this legislation and negotiate a final agreement with the Senate by early summer. It will then go to President Biden's desk for his signature, which is expected.
This bill is a long-overdue investment in our nation's infrastructure that will create thousands of new jobs and help ensure millions of Americans have access to clean and healthy drinking water and safe, sanitary wastewater systems. NUCA has been and will continue to be a key player in getting it over the finish line and to the Oval Office.
"I am optimistic that Congress will finally appropriate in 2021 much-needed federal resources local communities must have to repair their obsolete and deficient water infrastructure systems," Carlson said.
NUCA Government Affairs lobbyists Eben Wyman and Zack Perconti represent NUCA's interests on Capitol Hill.
Tags:
Inside Washington
,
May June 2021 Print Issue