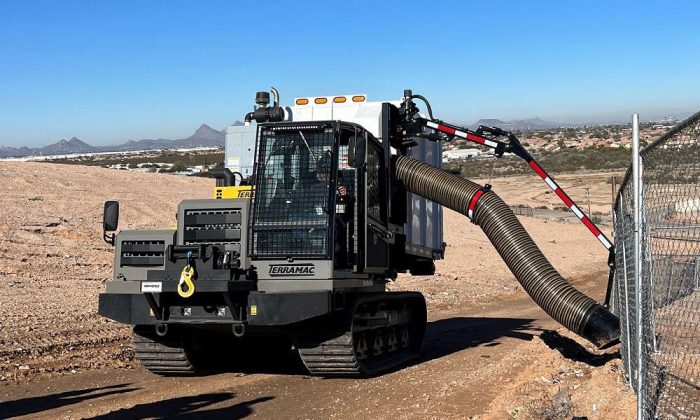 Terramac, a leading manufacturer of innovative rubber tracked crawler carriers, will be featuring four of its rubber tracked crawler carrier models at CONEXPO March 14-19 in Las Vegas. Visitors to the Terramac exhibit located in the Festival Grounds in Booth F8840 will see two 360° rotating frame units and two of the most recent customized straight frame machines which show the versatility and utilization of Terramac rubber tracked crawler carriers.
"This year's Terramac exhibit is the largest space we have had at a CONEXPO to showcase our crawler carrier models," says Matt Slater, VP, Business Development for Terramac. "The straight frame and rotating crawler carriers have been put to use in so many different applications. We want attendees to see a few of the many ways a Terramac machine can be outfitted for their specific needs."
On display will be a RT7R which has a 7-ton carrying capacity and a low 5.5-psi ground pressure, and a RT14R which has a 14-ton carrying capacity and ground pressure of 8.3-psi. Both machines leave a minimal footprint in sensitive terrains and can offload materials at any angle or on the go.
The Terramac RT6 with a debris collection system provides unmatched suction to collect loose trash along fence lines or roads. The RT6 is fitted with a skid mount and hooklift so alternative bed types and support equipment that further increase carrier utilization can be easily interchanged. Also on hand will be a RT9U paired with a Versalift 9500 aerial device for improved access and safety while installing and maintaining powerlines. Terramac's expert staff will be available to answer questions and explore solutions to help customers access challenging jobsites with minimal impact on the environment.
"We carefully selected each model on exhibit to demonstrate how a single carrier can be used for very different construction applications across a wide range of industries," says Slater. "We know the customization possibilities are endless, but it's shows like CONEXPO, where we get to present our equipment solutions to the market, that others can see the full scope of our capabilities and our innovation prevail. It's also one of our opportunities to learn of new challenges facing the market so we can continue to deliver products that make the biggest impact."
Terramac, headquartered in Sugar Grove, IL, produces the world's leading crawler carriers. Units are sold through its dealer network, which offers easy-to-locate parts and service support throughout the world. The units can be customized with support equipment to serve many industries including pipeline, utility, mining, environmental, forestry, general construction and more. Terramac is part of the CK Power Family of Companies, a leading distributor, manufacturer and service provider for engines, power generation, powertrain, and off-highway power solutions. Tags: Terramac