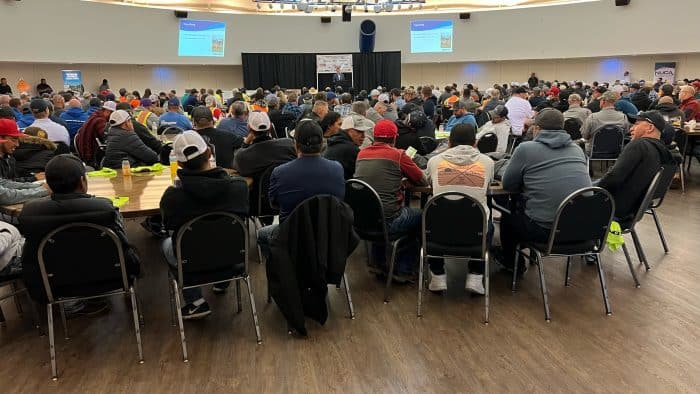 On October 5, 2022 500 construction professionals converged on the Adams County Fairgrounds with one common goal in mind, to learn more about trench safety and help prevent tragedy in the workplace. The North American Excavation Shoring Association (NAXSA) and the Occupations Safety and Health Administration (OSHA) partnered with local associations Associated General Contractors (AGC) of Colorado, Colorado Contractors Association (CCA), National Utility Contractors Association (NUCA) of Colorado and Colorado 811 along with the 3 shoring companies in the state: National Trench Safety, Sunbelt Rentals and United Rentals to bring a full day of free trench safety training to as many industry professionals as would fit into the Waymire Dome at the fairgrounds.
The Trench Safety Summit boasted both indoor and outdoor training in the way of live industry professional speakers including the Deputy Assistant Secretary of Labor for Occupational Safety and Health, James Frederick; Ryan Jaffe, Secretary/Treasurer NAXSA; Steve Hanley, General Manager, CERDA Industries; Perry Silvey, Founder TEST (Trenching Excavating Safety Taskforce); Karl Trott, Vice President, Plug Technologies; and the North Metro Fire Department; The outdoor demonstrations including 6 stations were manned by industry professionals and several OSHA Representatives that taught Open Trench – Competent Person Review; Hydraulic Shoring Trench; Shielding Trench; Sloping and Benching; Traffic Control and Rigging. Spanish interpreters were also on hand to assist where needed throughout the day.
Participants from 148 companies were represented and asked to participate in roundtable discussions with their peers to determine best practices, identify issues with various scenarios and share answers and examples of what works and ultimately what does not. Not surprisingly, discussion was plentiful and participation was strong during this activity.
The first 6 months of 2022 brought 22 trench related fatalities in the industry. This number surpassed the entirety of trench related deaths in 2021 and OSHA has taken these deaths seriously. These deaths are preventable and through training can be prevented in the future. OSHA has started a National Emphasis Program. Protective systems are required when a trench is more than 5 feet deep. Several municipalities are also taking action in the form of not allowing contractors to continue on jobs if they receive an OSHA violation on a jobsite. It is the hope of the organizations involved in the October 5th Trench Safety Summit that lives are saved in the future from trench collapse.
Thank you to our sponsors: Title Sponsors – NAXSA, OSHA, National Trench Safety, Sunbelt Rentals, United Rentals; Breakfast Sponsors – Kloeckner Metals, Pacific Shoring; Lunch Sponsors – Arcosa Shoring Products, Cerda Industries, Glendale Steel Supply, Kloeckner Metals; Outside Exhibit Space – Rinker Materials, Safety & Construction Supply/Tool Zone; Inside Exhibit Table – AGC of CO, CO 811, CCA, Colorado Safety Supply Co., Colorado Barricade, NAXSA, NUCA of CO, OSHA, Plug Technologies
About The National Utility Contractors Association (NUCA) of Colorado
Chartered in 2009, NUCA of Colorado is the only trade association dedicated solely to the utility construction business. NUCA of Colorado is the preeminent place to come together with other industry professionals to grow and develop, listen and communicate, and share best practices in a spirit of trust and cooperation. NUCA of Colorado offers its members the opportunity to build relationships and create unique business opportunities, stay up-to-date on the latest industry news, and participate in shaping industry-related legislation.
Tags:
NUCA of Colorado
,
Safety