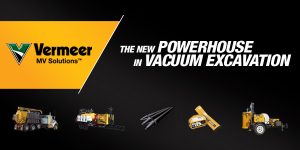 The Vermeer Verifier G3 by Vermeer MV Solutions combines trusted precision with a simple, user-friendly interface. Contractors face congested underground conditions, unmarked utilities and increasingly strict regulations, making accurate, timely locating more important than ever. With the Vermeer Verifier G3, users can expect a durable design with antennas mounted in rubber isolators to standup to the toughest jobsite conditions and the exclusive Vermeer MV Solutions three-year warranty and weather-proof guarantee.
Combination peak and null screen
In addition to the separate peak and null locating screens found on the previous Verifier models, the G3 features a combination screen. This eliminates the need for users to toggle between two screens and enables them to capitalize on the benefits of both functions — the accuracy of peak mode and the user-friendly null mode.
Semiautomatic and manual gain adjustment
Vermeer MV Solutions strives to provide the most accurate locating tools in the industry, which is why it maintained the semiautomatic gain adjustment feature. Gain adjustment refers to the receiver's sensitivity to the magnetic field emitted by a utility line. The G3 has dual functionality, which means contractors can engage the semiautomatic gain on congested, urban jobsites where signal distortion is a common challenge, and the manual gain method when working in less congested areas.
Automatic depth and current measurement index (CMI)
Another feature that adds to the user-friendly nature of the G3 is the addition of an automatic depth and current measurement index. When the user is over a utility line, instead of having to manually press a button, the estimated depth and CMI will now be automatically displayed.
Compass
The G3 includes a compass icon. The icon provides a straightforward visual representation of a utility's position in reference to the receiver. The compass icon simplifies the locating process by automatically calculating peak signal and quickly informing the user the direction of the utility path making it easier to locate the entire line.
A locator for all markets, skill levels
The G3 features focus on ease-of-use and upholds the standard of precision and accuracy for which Vermeer MV Solutions tools are known. Users new to the locating profession will appreciate the streamlined design and simple interface; advanced operators have the option to capitalize on some of the industry's most advanced locating technology — all in one device.
To learn more about the Verifier G3 and other Vermeer MV Solutions locating tools, visit mclaughlinunderground.com or contact your local Vermeer dealer.
SOURCE – Vermeer MV Solutions