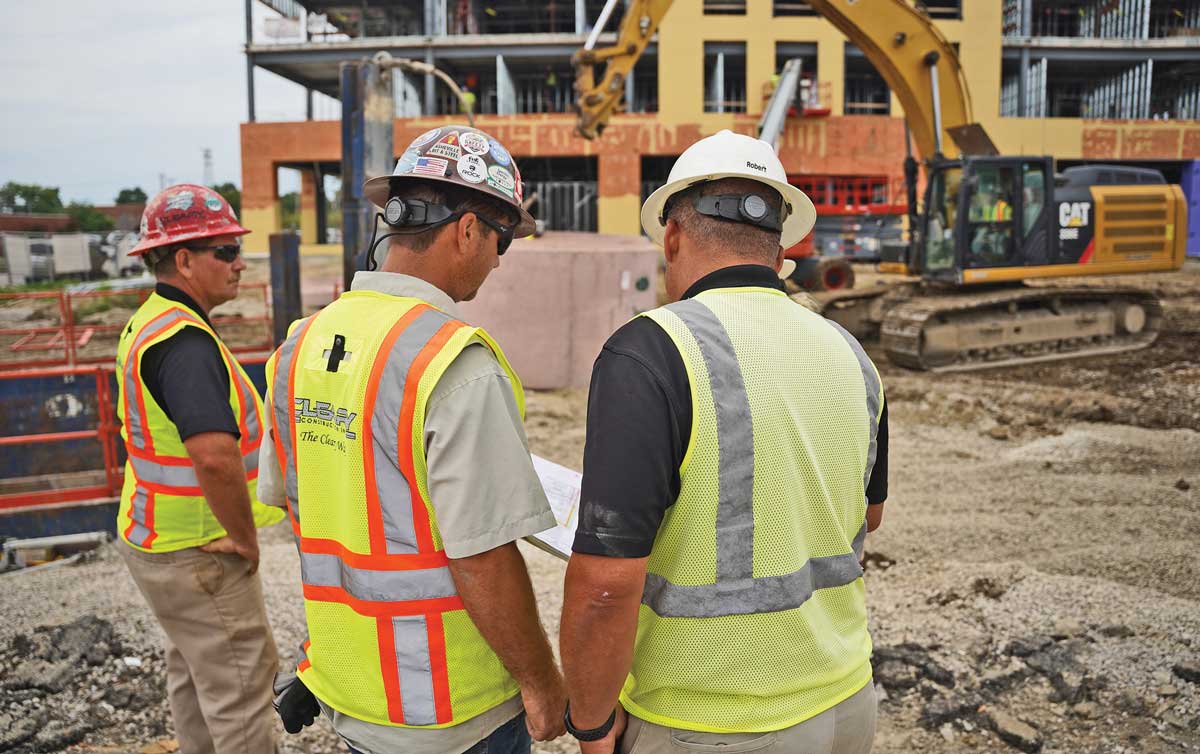 SafetyWORKS is a regular column highlighting NUCA's William H. Feather Safety Awards winners. If you would like to be considered for these prestigious NUCA awards in 2023, please submit your entry by the end of December 2023. Award details can be found at nuca.com/safetyawards.
Cleary Construction Inc., based in Tompkinsville, Kentucky, strives to instill in their employees that safety is the responsibility of everyone in the company, from the laborers and superintendents on a job site up to the chief executive officer and president, Mr. Darren Cleary.
"We recognized at an early stage in our growth that a strong safety culture was important to a successful company and vital to making sure everyone makes it home safe. Over the past few years, we initiated the 'Think Zero' safety campaign company wide. Because of that focus, we've now hit over two years without a lost time incident. Both our company & employees are reaping the benefits of that, and it encourages them to keep up the good work," said Mr. Cleary.
It is this company-wide embrace of a fundamental requirement in an underground utility construction jobsite that earned Cleary Construction the 2022 Overall Winner of NUCA's William H. Feather Safety Award.
SafetyWORKS strives to discover the methods used by each NUCA Safety Award winner to achieve this excellence. Each company is different, yet each goal reached is the same: to provide a safe workplace for all employees.
Safety is not only a mindset. It is an investment in training and reinforcement of basic procedures and rules. The company has a written safety program. It also has the personnel in place to reinforce this extremely important aspect of any construction project. Cleary employs a third-party safety consultant in addition to their Safety Department and Safety Committee. This consultant randomly inspects their jobsites and ensures that their employees are using the safest jobsite practices at all times.
While Cleary Construction owns and maintains the vast majority of their trench protection systems and employee personnel trained to spot defects, make repairs or even build specialty systems for those unique applications often encountered in our industry, they still heavily rely on NUCA trench safety partners for shoring design, rentals and problem-solving collaboration.
In the last four years, all of their foremen, supervisors, and managers have attended a 10-hour or 30-hour OSHA Construction Outreach Program. In addition, over 90% of their entire workforce has received competent person training so they can better understand the responsibilities placed on the projects "competent person". That means every one of their current employees with this responsibility has had formal training in this area.
Recognition of a safe work environment reinforces the culture, the message, and the inspections. Cleary keeps a visual running record of days without an incident and rewards their employees when they hit safety milestones. These incentives along with the basic motivation of joining their families safe at home at the end of a workday serve as continual encouragement to remain diligent in their safety awareness.
Cleary Construction has been in business in Kentucky, Tennessee, and other states in the Midwest and Southeast for 37 years. Since the start of their safety program, the number of reported accidents has gone down. Their OSHA 300 log reported two accidents in 2020, only one reportable accident in 2021, and none in 2022.
The company continues its commitment, writing in early summer 2023 that it has surpassed 800 days with no loss time accidents. That is over two years working without any employee having an injury that required time away from work.
Cleary Construction is noticeably investing in Safety—and it is paying off for everyone.
Cleary recognizes that everyone in the industry has a responsibility to promote safety to others working on similar heavy civil construction projects. The company posts safety awareness messages on its popular social media accounts, and they show safety as a company priority at their job and career fairs to prospective employees pursuing a safe working environment in construction.
The company's leadership recognizes that supporting NUCA and their local chapters also supports their own safety culture. Cleary Construction has representation on the Board of Directors for the NUCA of Kentucky, Middle Tennessee, and East Tennessee chapters. Mr. Cleary serves on the NUCA National Board of Directors. Many Cleary executives also attend NUCA's annual convention and Washington Summit events.
NUCA was proud to award Cleary Construction one of the 2021 Safety Awards at our 2022 convention, and NUCA was even prouder to award the company our top Overall Safety Award at the 2023 convention in Las Vegas, again witnessed by their peers.
"There is nothing more important than ensuring the safety and physical well-being of our employees at all times," remarked Mr. Cleary. "Safe work practices are emphasized by all levels of our organization regardless of the type of work performed. Our ongoing goal is zero incidents with an unwavering focus on safety awareness."
Cleary's Safety Checklist
Top-Down Approach. All employees, from the Executives to the laborers, must 'buy in' to Safety as a #1 Priority to permeate a good safety culture. Lead by example. Safey is a way of life.
Safety Is An Investment. Company must commit the necessary funds and resources to provide all essential equipment etc. to ensure safe environments. No one wants to work for an unsafe company.
Training. Provide all initial new hire training, continuing education, and regular third-party inspections to enhance safe practices and enforce accountability.
Early Job Hazard Analysis. Identify potential job hazards prior to project start and keep jobsites stocked with equipment for when new hazards present.
Root Cause Analysis. Look for the real cause of an incident to prevent it from happing again and encourage crew members to report 'Near Misses' so that any incident can be used as a 'teachable moment' on how to avoid accidents in the future.
Robert Baylor is NUCA's Director of Communications. Tags: July/August 2023 Print Issue, Safety WORKS