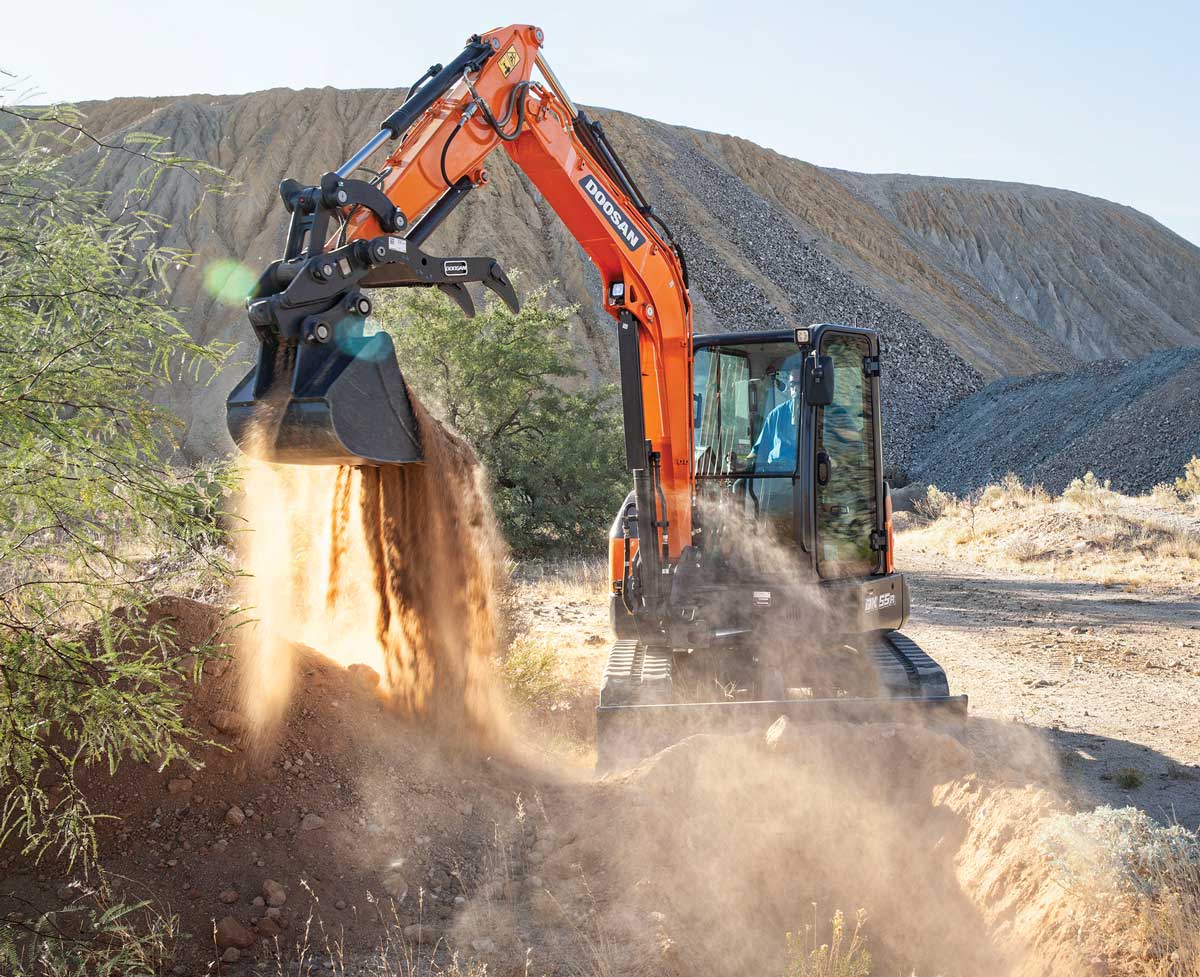 Discover how excavator innovations are improving productivity, operator experience
By Allison Grettenberg
Mini excavators are a staple for contractors performing utility work. Their compact size, digging depth and reaching abilities offer great versatility and performance. In fact, mini excavators today feature many upgrades traditionally found on larger excavators.
Some mini excavator advancements include multiple tail-swing configurations, cab comfort updates, attachment versatility, telematics, and options and accessories. Thomas Lee, director of product management at DEVELON, provides an in-depth look at these mini excavator trends.
Multiple Tail-Swing Configurations
The mini excavator market has transformed over the years, with manufacturers offering a variety of tail-swing configurations and more models with reduced tail swing overhang. Customers can choose between conventional tail swing, reduced tail swing and zero tail swing. Zero tail swing excavators have grown in popularity over the past decade. Along with this design are variations such as minimal tail swing and compact radius tail swing.
Zero tail swing allows your operators to work up against structures and obstacles without restricting rotation. The rear of the excavator's house stays within the tracks throughout the full rotation.
"Contractors enjoy the design of zero tail swing mini excavators because it helps to minimize contact with objects when the machine is working," says Lee. "Operators are less likely to make contact with an object, such as a residence or commercial building, when they're digging next to it and as they turn the machine's house. This not only helps minimize damage to existing structures, but it also minimizes machine downtime and keeps the machine looking nice."
If you need more lifting power and don't mind a 6- to 20-in. overhang, a conventional tail swing mini excavator may be best, since zero tail swing and reduced tail swing machines generally have a lower lift capacity.
"A conventional tail swing mini excavator offers contractors advantages when they are traveling through narrow spaces," says Lee. "Conventional tail swing excavators tend to be narrower than zero tail swing excavators. That means it's easier for operators to pass through a gate or travel between homes in areas where there are tight lot lines."
Although not a new feature of mini excavators, a popular feature of the machines is the independent boom swing function. This feature makes mini excavators a more popular option for traditional trenching and excavating tasks over larger machines such as tractor loader backhoes.
"Operators can adjust or move the mini excavator's boom swing independent of the excavator's house movement," says Lee. "This feature is ideal when operators need to dig in an 'offset' position around objects or adjacent to existing structures such as a wall or a home foundation."
Cab Comforts
A comfortable cab can make all the difference when your operators are on the jobsite. The latest mini excavators are equipped with cab features such as standard heat and air conditioning, suspension seats and adjustable armrests, to keep them working comfortably all day long.
In addition, advanced displays serve up easy-to-read machine data and control options that help solve more problems in the field. You and your operators can keep a close eye on diagnostic information and attachment settings, integrate a rearview camera and switch languages. An advanced display option offers touch interaction and device connectivity for added ease of use. Owners can add an optional all-around view monitor (AVM) camera system for enhanced visibility of the mini excavator's surroundings.
Arm Configurations
Most mini excavator models are available with two different arm configurations: standard and long arm. The standard arm is ideal for traditional, everyday work and provides the best breakout forces. The long arm option provides additional dig depth and reach and is ideal for jobsites where it is more difficult or time-consuming to reposition the excavator.
"Switching from a traditional standard arm to a long arm option may require additional counterweight on the mini excavator to ensure it is capable of lifting objects such as pipes with a thumb or grapple attachment," says Lee.
Attachment Versatility
Auxiliary hydraulics can be a standard feature on today's mini excavators. Hydraulic quick coupler piping is also becoming more common, enabling the use of a hydraulic quick coupler attachment for faster attachment changes.
A second set of hydraulics is available as an option for operators who outfit their mini excavators with multifunction attachments, such as a rotating grapple. Tiltrotator accessories greatly increase the flexibility of mini excavator attachments and can improve your operator's productivity.
Depth Guidance Systems
Achieving an accurate trench depth no longer requires you to leave the cab, set up a laser system or ask a crew member to hold a depth gauge. Using sensors that monitor the exact position of the mini excavator's bucket teeth, arm and boom, a depth check system allows you to program a desired digging depth and dig against that benchmark.
"Whether the operator is trenching utility lines, digging basements or prepping for footings, a depth guidance system can improve a business's profitability by preventing over- or under digging — and the associated costs that come with fill material or manual labor to finish the job," says Lee.
Telematics Systems
As for technology, there are some mini excavator manufacturers that offer standard telematics systems designed to protect uptime and help owners monitor their equipment's health, location and productivity — all from a mobile app or website.
"The telematics system is useful for utility contractors because they can set parameters for where the machine can be operated and certain times of the day," says Lee. "If customers own larger machines, the data for the equipment is available in one easy-to-access interface."
Any machine fault codes are automatically sent to your dealer so they can assist with resolving the problems. Dealers can also monitor a machine's maintenance intervals and make sure equipment gets the service it needs, at a convenient time that fits in your schedule.
Today's mini excavators are designed to accelerate productivity while keeping your operators comfortable on the job. Talk with your local equipment dealer to learn more about machine features, discuss how they might benefit your business and schedule a demo.
The Move Toward Electric-Powered Excavators
Compact equipment, including mini excavators, is frequently put to work in cities, residential areas and indoor jobsites — in close proximity to other machines and workers. Electric-powered excavators have a great advantage over their diesel counterparts due to less noise and no emissions. Some manufacturers have refined their design and technology and planned to showcase the next iteration of their equipment at CONEXPO in 2023. The new DEVELON DX20ZE-7 mini excavator, the company's first electric-powered compact excavator, was displayed at the show.
Allison Grettenberg is a a Strategic Communications Specialist at Two Rivers Marketing, based in Des Moines, Iowa. The article is written on behalf of DEVELON, which is based in Suwanee, Georgia. Tags: March/April 2023 Print Issue, Mini Excavators