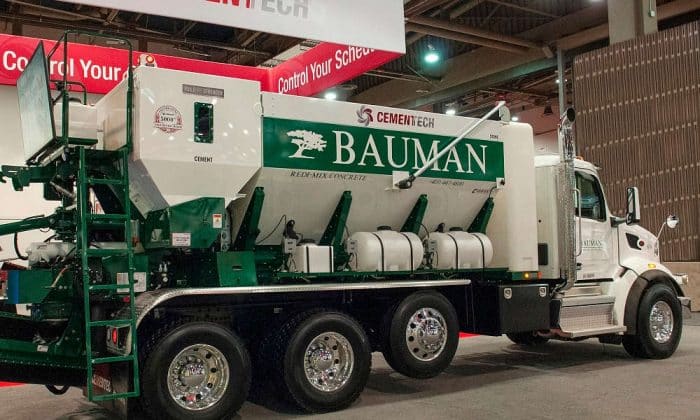 Cemen Tech announced the production and delivery of its 5,000th volumetric concrete mixer this past January from the company's manufacturing facility in Indianola, Iowa. The Cemen Tech C Series was ordered by Bauman Landscape and Construction based out of San Francisco, Calif., and is the latest to join a fleet of Cemen Tech mixers working across the world.
"This milestone is a true testament to the growing use of volumetric concrete mixers and how much value they add to a construction business," said President and CEO Connor Deering. "For decades Cemen Tech has held a reputation for building the industry's most accurate, durable, long-lasting volumetric concrete mixers and forming enduring relationships with customers. We carry this mission forward with the pride and dedication of our employees in designing and building equipment that exceeds customer expectations through cutting-edge technology, customizable products, and superior support."
Cemen Tech is the world's largest manufacturer of volumetric concrete technology. Its C Series is the bestselling fully automated volumetric concrete mixer in the world and is the most innovative on the market today. It allows jobs to be batched, measured, mixed, poured, recorded and analyzed all in one unit.
Each C Series mixer is equipped with an electronic touch interface, AUTO-STOW and AUTO-WASHOUT for a fully automated concrete production solution. This means electronic mix designs will be accurate for exact mixtures on every pour. The C Series is also ACCU-POUR ready, a Cemen Tech proprietary technology that allows an operator in the field to track when a unit was in operation, how much concrete was poured, the mix design used for each job and many additional features. The information displays on a digital readout and shows the exact amount of aggregate, sand, water and cement used for the specific pour. Contractors can expand the profitability of their business with this technology. Find more information about the Cemen Tech C Series at https://cementech.com/c-series/.