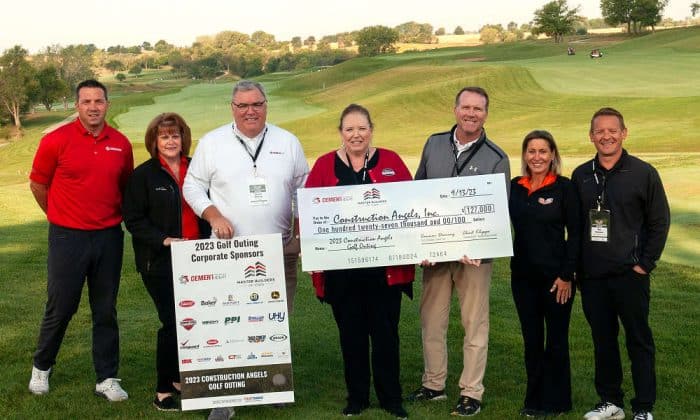 Almost two hundred golfers representing the construction industry came together to back their own, raising $127,000 during the inaugural IOWA Construction Angels Golf Outing, presented by Cemen Tech and Master Builders of Iowa. Funds contributed during the September 13th event support the nonprofit Construction Angels in providing immediate financial assistance and grief counseling to families of Iowa construction workers who suffer a fatality on the job site. The national organization also provides academic scholarships to qualified applicants and children of fallen workers.
"On behalf of Cemen Tech, our employees, business partners, customers and community, it is an honor and privilege to take the lead in building awareness and financial support for such a unique and impactful organization as Construction Angels," said Connor Deering, CEO and President of Cemen Tech. "Safety is always the first priority at Cemen Tech and across the construction industry. However, when the unexpected happens, we are grateful to have this opportunity to help Construction Angels deliver on its mission to serve the families who experience tragedy."
Plans call for the golf outing to take place annually. The funds raised are dedicated to exclusively assist Iowa families; Iowa joins 26 other state and regional partners of Construction Angels.
"Iowa's construction workforce is made up of more than 84,000 professionals who play a significant part in continuing the rich quality of life and thriving progress we enjoy in our state," said Chad Kleppe, President and CEO of Master Builders of Iowa. "We respect these contributions and are proud to support the Construction Angels organization on behalf of our members and their employees and families."
"Construction workers are often in dangerous surroundings and understand it can be part of the job. We want to be there for families who have lost a loved one to offer an immediate source of relief, assistance and continued support," said Kristi Gibbs, CEO and Founder/National Executive Director of Construction Angels. "Through volunteers and gifts from generous donors, Construction Angels is able to demonstrate fallen workers are not forgotten and their families will continue to be supported."
Cemen Tech, MBI and Construction Angels would like to thank our many sponsors for making this record-breaking event happen: Alliance Construction Group, A-1 Mobile Storage Service, Baker Group, Basepoint Building Automations, Chartwell, CTI Ready Mix, Dobbs Peterbilt, FastSigns (Clive, Iowa), Freightliner & Western Star, GreatAmerica, John Deere Construction & Forestry, Link Manufacturing, McAninch Corporation, Murphy Tractor, NAWIC, Peterbilt, Precision, Pulley & Idler, Reynolds Warren, Stellar Industries, Thunder Creek, Truck Country, UHY, US Erectors, Vanguard Truck Centers and Weiler.
A big thank you to our hole sponsors for rounding out our event: Asphalt Paving Association of Iowa, Bankers Trust, Behnke Enterprises, Competitive Edge, Certified Power Solutions, DCI Group, Elder Corporation, Fastenal, Henning Companies, Holmes Murphy, Housby, Iowa Fluid Power, Lessing-Flynn, Mortensen, MHC Kenworth, Pomp's Tire Service, Sternquist Construction, WHY! Company and ZLR Ignition. Tags: Construction Angels