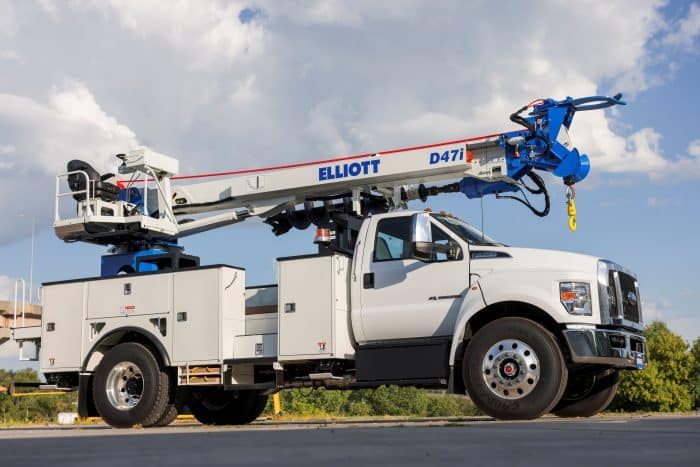 Elliott Equipment Company, a leading manufacturer of aerial work platforms and material handling equipment, today announced the introduction of its new D47 digger derrick. The D47 is a high-performance digger derrick that is designed to meet the needs of the most demanding distribution applications.
The D47 features a class-leading 26,000-pound maximum lifting capacity, making it ideal for a wide range of lifting and material handling tasks. It also has a 17- to 26-foot digging radius, making it capable of reaching even the most difficult-to-access areas. Standard features including 46kV insulation, independent boom operation, transferable pole guide, line body and rear mounted hydraulic tool circuit mean the D47 comes fully ready to work.
In addition to its powerful performance, the D47 is also equipped with several features that make it easy to operate and maintain. These features include full pressure, open center hydraulic controls, hydraulic side load protection, a premium planetary swing drive and winch motor that are typically found on larger machines, and an ergonomic control console with high back air suspension seat for operator comfort.
The D47 is also backed by a lifetime structural warranty, which provides peace of mind to operators and owners.
"We are really excited to introduce the D47 digger derrick," said Jim Glazer, President & CEO of Elliott Equipment Company. "This new product is designed with the operator in mind, and we believe it is the most user-friendly distribution digger derrick on the market today."
The D47 is available now through Elliott Equipment Company and its rental partner, United Rentals.
"We share the same commitment to helping our customers work efficiently, and the D47 model is a great and user-friendly option that we are proud to offer as part of our end-to-end utility solution," said Craig Schmidt, Vice President National Accounts, United Rentals. "We are excited to partner with Elliott and give our customers access to a new generation of digger derricks that helps drive safety and productivity in the utility space. For more information, please visit our website or contact us today."
Key Features of the D47 Digger Derrick:
Class-leading 26,000-pound maximum lifting capacity
ANSI Category C insulation
17- to 26-foot digging radius
Full pressure, open center hydraulic controls
Premium planetary swing drive and winch motor for smoother operation
Dual lift cylinders
Cable carrier / slide tube system designed for ease of maintenance
Hydraulic side load protection
Ergonomic control console with air suspension seat
Comfortable, low-strain multi-axis hydraulic controller
Lifetime structural warranty