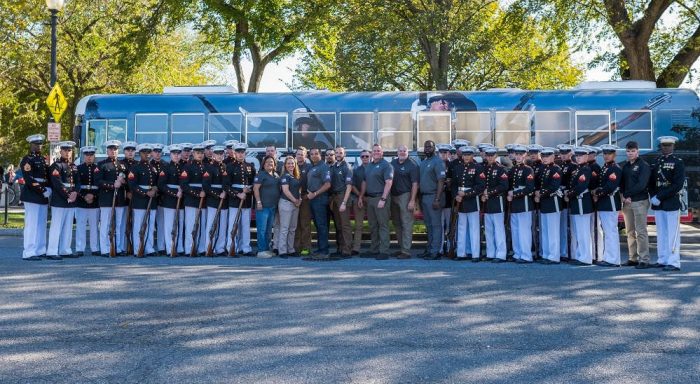 Sunbelt Rentals, North America's premier equipment rental company, has been recognized with three prestigious awards for its efforts to recruit and retain military veterans in North America and globally.
For the first time, Sunbelt Rentals has received the Honoring Investments in Recruiting and Employing American Military Veterans (HIRE Vets) Gold Medallion Award from the U.S. Department of Labor. This is the only federal award that distinguishes this accomplishment. To achieve the 2022 Gold Level recognition in the large employer category, Sunbelt Rentals met two requirements: Hiring no fewer than 7% of veterans during the 2021 calendar year and retaining no fewer than 75% of veterans hired in 2020 for 12 months.
"We had a vision to build a multinational program geared to support the unique challenges faced by our veteran teammates and their families," said Shane McKenzie, director, Veterans Programs, Sunbelt Rentals. "We now lead one that exceeds industry standards and is recognized internationally as better than best-in-class."
In addition, Sunbelt Rentals has been named a top 2023 Military Friendly Employer in the nation for the third year in a row. This is the first year that the company earned the Gold Distinction, which requires an employer to score within 10% of the 10th-ranking employer in their category.
Sunbelt Rentals U.K. also recently received the highly coveted United Kingdom Ministry of Defence (MOD) Gold Armed Forces Covenant Award.
Sunbelt Rentals is committed to supporting veterans and providing a fulfilling workplace. Purpose-built to assist with challenges faced by the veteran population, the Sunbelt Rentals Veterans Program focuses on four pillars: resources, recruitment, recognition and retention. The company offers veterans access to a hotline, administrative and accommodation support, and interagency coordination. Veteran Ambassadors support military employees throughout their careers and are available to guide them through the company's resources.
RELATED: Workforce Development: Hiring Veterans Can Help Bridge the Gap