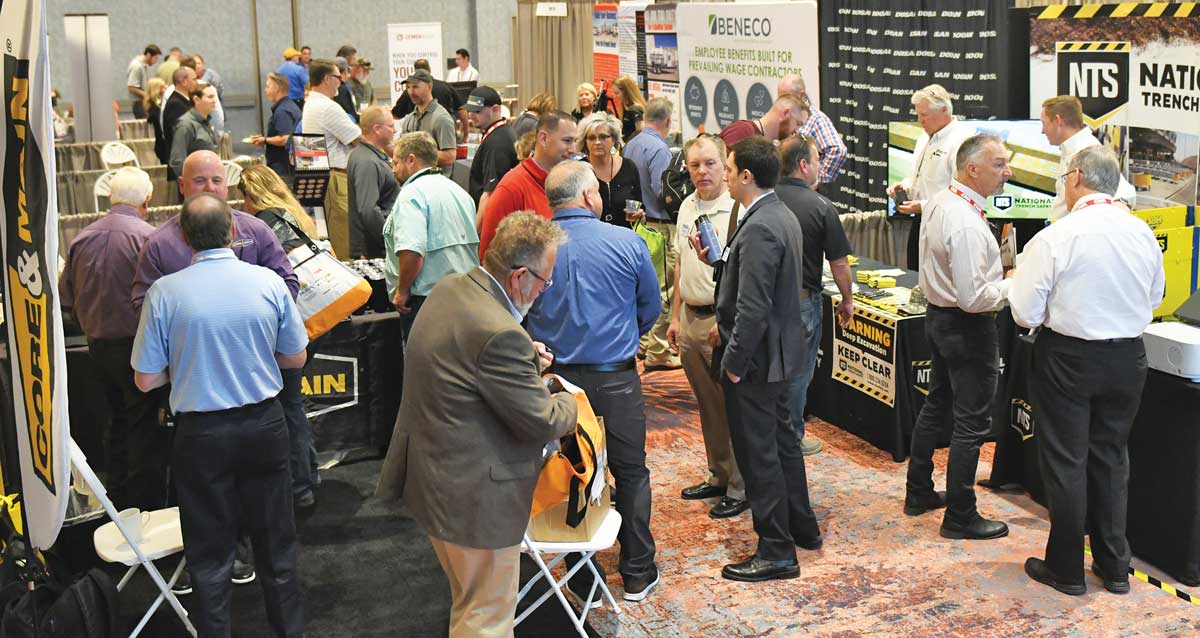 Maximizing NUCA Membership Value Is A Team Effort!
By Robert Baylor
NUCA membership offers benefits to more than just a company's executive team. Your membership also includes your employees, too. From your key team members to your jobsite superintendents, and down to your men and women working safely in your trenches, there is a NUCA program that can leverage your investment in your association.
Here's what you can take advantage of this year to "Make NUCA Yours!"
Industry Knowledge: Share NUCA communications. Our team creates content for every employee of your organization from concerns about safety to legislative efforts to executive development. Pass on the magazine or, better yet, add them to the company membership so they'll receive their own copies.
Many of our highlighted actions are found in NUCA@Work, our biweekly membership-wide email that can be forwarded to your team. Our safety publications such as NUCA Safety News or Toolbox Talks are also designed to be read by crew leaders and employees. NUCA Business Journal contains articles about executive development and better construction business practices.
Encourage Participation in NUCA Social Media! We're on Twitter, Facebook, and LinkedIn. Our YouTube channel contains short videos from our membership department that clearly explain NUCA benefits your team members and colleagues can access. This is a great way to connect with the younger generations entering the workforce.
Your NUCA Chapter: Everything on a National Level is also done in cooperation locally with your chapter. Do not miss out on great networking events, legislative days, and safety and professional development training taking place close to your home through your NUCA chapter.
NUCA Training and Education: NUCA can develop your employees and younger members of the workforce. Teaching the next generation of leaders about the importance of being part of the industry association, and how associations allow our companies and the industry to progress forward in ways that wouldn't be possible alone.
NUCA Safety & Damage Prevention: Sign up your safety employees for NUCA safety programs! At NUCA, our priority is safety and making sure that our members know and do as much as they can to reinforce invaluable safe practices.
Make sure your safety director and damage prevention leads know about NUCA programs like NUCA STAR, the Damage Prevention & Claims Avoidance Program (CAP), Crew Leader Training, NUCA National awards, Train The Trainer and Project Management courses. The best way for these folks to have access to our safety, training, and educational department is to sign them up as a member under your account.
NUCA Events: One of the best ways to move the needle forward in business is through networking. As a member, you and your team have access to networking opportunities on a National and local level through our NUCA Chapters. Bring your senior supervisors to NUCA Chapter events. Chapter social events are a terrific way to make connections that help the business and spread the good name of your company. Events and opportunities to connect with other local members are listed on your chapter's newsletter and website.
On a national level, join NUCA National for exciting and unique events such as our annual Washington Summit fly-in, where your senior staff can meet your federal lawmakers in Washington, D.C. and explain your company's valuable contribution to your community. Also join us for our annual fall Safety Damage/Prevention Conference to hear more about the latest in safety from other industry professionals like yourself.
Employee Benefits & Human Resources Programs: Your NUCA membership provides the company with access to NUCA Advantage, our employee health, dental, vision and 401k program benefits offering customizability and cost-savings through economies of scale. Also included is a free H.R. platform with 100s of reference materials, compliance templates, and an online Learning Management System (LMS) offering free training on dozens of important topics for your construction business.
NUCA Advantage is one of NUCA National's most used benefits – do not miss out!
Have you personally investigated all of these NUCA Advantage benefits available to your employees? If these responsibilities fall to someone else at the company, these employees should be part of your NUCA membership and interface with these benefits. Your company could be missing out on major cost savings, resources, and training opportunities you didn't know you had through NUCA Advantage.
Make NUCA Yours. In short, no one person has the bandwidth to maximize the company's NUCA membership by themselves. The key to a revenue-positive return on your membership investment is bringing the right team members together on your NUCA membership and engaging them with the benefit programs in their areas of expertise.
With 20 individual member slots available for each company membership, NUCA is here to help you do just that! Login to your member profile on www.nuca.com or email us at nuca@nuca.com to get started.
Robert Baylor is the NUCA Director of Communications Tags: March/April 2023 Print Issue, NUCA