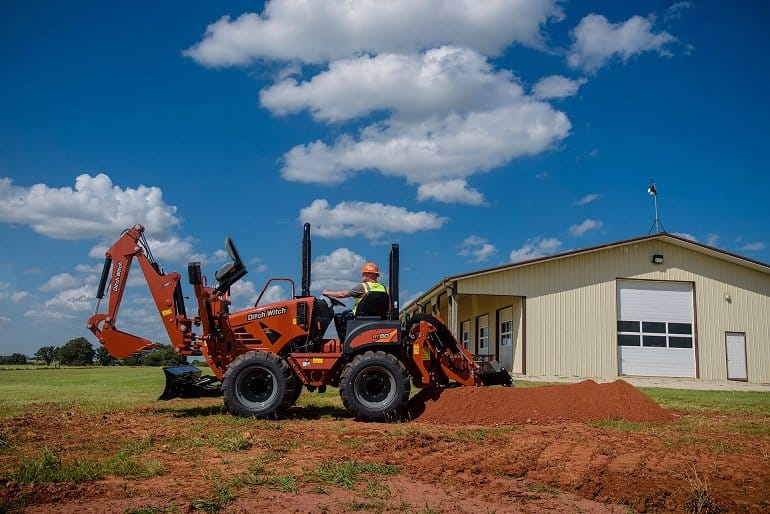 Underground construction in urban areas can be a constricting and uniquely challenging experience – especially without a versatile and maneuverable machine. Providing a solution to these challenges for contractors and operators inspired improvements of an already proven Ditch Witch ride-on trencher, the RT80.
The new, modern RT80 trencher brings a narrower, more modular design and added versatility to the Ditch Witch family of trenchers – features contractors need most to increase productivity on today's evolving urban jobsites. The slimmer model is ideal for heavy-duty trenching, vibratory plowing and microtrenching in confined urban and residential areas where larger machines cannot maneuver as freely.
With the typical residential street lane having a width of 11 ft, the RT80's footprint of just over 6.5 ft gives operators plenty of room to work without disrupting the surrounding area.
"The RT80 trencher was built to adapt," said Chris Thompson, Ditch Witch product manager, heavy-duty trenchers. "Faced with tighter deadlines, smaller budgets and more congested underground networks, contractors need a utility trencher that can fit and function in any environment. That was our mindset when designing the new version of the RT80."
Moving between jobsites is also simplified with the new RT80 trencher. A modular track-frame design allows tires and tracks to be easily interchanged in the field. And when it's equipped with tracks, the trencher fits on a standard drop-deck trailer for easy transport.
The updated design improves the RT80 trencher's versatility, but it still delivers the productivity and ease of use that the machine's users expect.
Productivity
Built for heavy-duty work, the RT80 trencher is powered by a 74.5-hp Deutz, Tier 4 diesel engine. It delivers a best-in-class static load rating of 35,407 lbs and a wide-axle rating of 39,000 lbs.
The machine is built to maximize efficiency, as well. Its three-speed, shift-on-the-fly ground drive system increases productivity by allowing operators to select the correct range without needing to stop work. And it can work in any terrain or weather condition. An advanced cruise-control system senses engine load and automatically adjusts ground drive speed to changing soil conditions for superior traction and maneuverability.
Ease of Use
The RT80 trencher's new high seat rotates 90 degrees with the operator for more comfortable, simplified operation. And operation, itself, is aided by a dial-control design, which places precision control of ground drive and attachment speeds in the operator's hands.
For more information on the RT80 trencher, contact your local Ditch Witch dealer or click here.
RELATED: Ditch Witch Introduces SK3000 Stand-On Skid Steer
Tags: Ditch Witch, Trencher