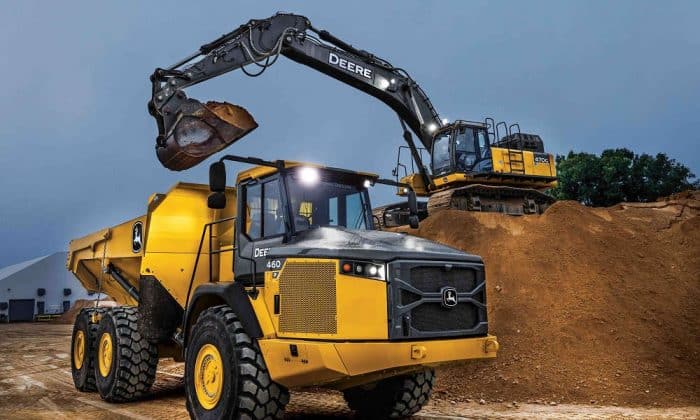 John Deere expands its Performance Tiering Strategy to its line-up of articulated dump trucks. New to the P-Tier portfolio, the 410 and 460 ADTs retain the same fuel efficiency, dump body, and drive modes as the previous E-II models. For all P-Tier models, additional updates to the external styling and interior cab layout modernize the fleet while maintaining the productivity these trucks have become known for. These machines also feature a range of standard onboard settings to help ease operation and increase efficiency during any application.
"The P-Tier models were built with the operator in mind to support ease of use and operator comfort," states Justin Steger, solutions marketing manager, John Deere Construction & Forestry. "Redesigning the layout of the components in the cab and grouping features together and packaging them in a meaningful way based on the application are a couple of examples of how we're incorporating customer feedback and delivering further improvements."
Helping to provide more customization, customers can choose from two different trim levels, as well as add a variety of optional packages including packages for enhanced operator comfort, cold weather conditions, debris management and maintenance and service capabilities. The first trim package option offers familiar features such as a black exhaust stack, manually adjusted rear view mirrors and temperature controls, a standard seat and radio, a 15-amp converter and halogen vehicle lights. Providing elevated creature comforts and controls, the second trim package offers a chrome exhaust stack, power adjusted rear view mirrors, a premium seat and radio, a 25-amp converter, automatic temperature control in the operator's station and LED vehicle lights.
Standard on the P-Tier ADTs, a variety of owner and operator settings help ease operation and increase jobsite safety. These onboard features, such as rollover protection, downhill dump protection, frame protection, hill hold, shuttle shifting and descent control help eliminate some of the operator inputs, enabling simplified operation. Additional machine benefits from the machine's dump body limits, standard transmission warm-up cycle, and max speed limits, help to keep the operator and machine safer and up and running for longer.
To learn more about the full line-up of articulated dump trucks within the John Deere Performance Tiering Strategy, please visit www.JohnDeere.com or visit your local dealer. Tags: Dump Trucks, John Deere