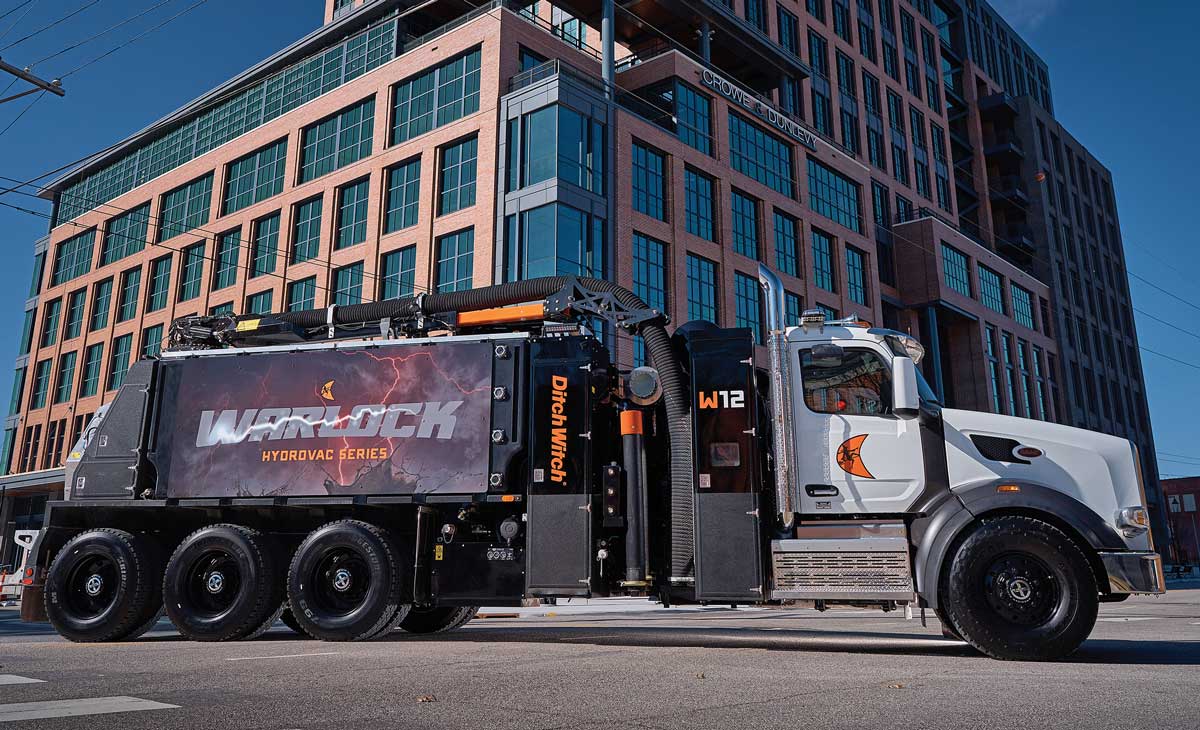 Latest in the Ditch Witch's Line of Vacuum Excavators Helps Contractors Work More Efficiently
As a pioneer in the field of trenchless installation, Ditch Witch has a long history in manufacturing directional drills and support equipment, notably vacuum excavation units. As the market has evolved, Ditch Witch has evolved with it, bringing out equipment that helps utility contractors complete jobs with increased efficiency and productivity.
The company's latest offering is the W12 Hydrovac, the first in Ditch Witch's new line of Warlock vacuum excavators. The W12 can be used in tandem with directional drills to complete a full suite of services, from potholing to verify the location of existing utilities through to site cleanup.
The most notable aspect of the W12 is its size. The W12 provides 1,200 gallons of fresh water and a 12-cubic-yard debris tank. With 5,000 cubic feet per minute (CFM) and a 27 in. Hg of vacuum power, coupled with the extensive storage capacity, crews can take on bigger jobs and maximize time on the jobsite, which will reduce time spent dumping debris.
"One of the biggest advantages of the W12 is the increased capacity – about double that of previous offerings," Chris Thompson, vacuum excavation product manager at Ditch Witch. "That means that contractors can stay out on the jobsite longer vs. having to leave midday to find a dumpsite for spoils or refilling water tanks.
"Additionally, the truck can be used to fulfill a number of tasks – including towing a drill to the job, potholing utilities, spoil removal and site cleanup. This helps contractors control their own destiny vs. having to outsource these tasks."
Another new feature of the W12 is that the vacuum excavator is PTO-driven, which helps provide the extra dig power. "This vac utilizes the horsepower already on the truck by powering the blower via transfer case," Thompson said. "This allows the W12 to achieve impressive specs such as 5000 cfm and 27 in. of Hg lift while maintaining a quieter operating noise level and much of the competition."
Additionally, the design and layout of the debris tank positioned between dual 600-gallon saddle tanks of fresh water creates a more stable truck, improving operator experience. For easier operator usability, a remote-control system controls the water system and boom, and can lift and lower the tank.
"The design of the W12 is a natural progression based on our 20-plus years of history building vacuum excavation equipment," Thompson said.
The W12 is well suited to work in conjunction with mid-size drills, but can be used in combination with larger or smaller drills as well. "The decision on what size vac system to use comes down to capacity," Thompson said. "If you are working in a neighborhood or urban area and you know that you are only going to need to carry about 500 gallons of spoils, then a trailer-mounted system can be a very economical solution. But, if you are going to be supporting large drills and on the jobsite all day, you want to start thinking about a truck. Trucks also have the advantage of being self-contained and easy to maneuver if you are not trailering, while offering more capacity and more power."
To get the most out of the equipment, it is important that you are using the proper techniques. Based on the company's long history in vacuum equipment, Thompson can offer the following advice: "We have learned how to dig more efficiently," he said. "For example, if you are in a hard clay or compacted soil formation, the natural tendency had been to increase the water pressure. But that can actually have the opposite effect. We encourage people to limit their pressure to around 2,800 psi. If you need to start removing soil past that, you can start with a smaller hole and then enlarging it. Or, by using an on-board boiler, you can use hot water to help dissolve the soil and loosen it up.
"You can also decrease the likelihood of clogging by increasing the amount of slurry. One of the advantages of the W12 with the 8-in. hose and high CFM is that you can take bigger bites of the soil for more efficient digging."
Keeping the machine in tip-top working condition is also key to efficient operations. "Checking your filters daily is important," Thompson added. "You want to make sure that the blower filters and water filters are clear and seated properly to ensure that you are not limiting flow or allowing contaminants into the systems."
Buying from a trusted dealer is also an important consideration in procuring equipment. "We offer the equipment exclusively through the Ditch Witch dealer network so you know that every time buy our machinery you will have consistent customer experience. You are going to know where to get service; you are going to know who to call if something happens; and if you need tips for running it, you have someone there for training."
Jim Rush is editor of Utility Contractor. Tags: Ditch Witch, March/April 2023 Print Issue, Vacuum Excavation